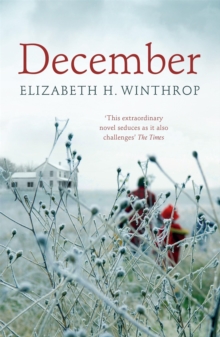 Description
Eleven-year-old Isabelle hasn't spoken in nine months, and as December begins the situation is getting desperate.
Her mother has stopped work to devote herself to her daughter's care.
Four psychiatrists have already given up on her, and her school will not take her back in the New Year.
Her parents are frantically trying to understand what has happened so they can help their child, but they cannot escape the thought of darker possibilities.
What if Isabelle is damaged beyond their reach? Will she never speak again? Is it their fault? As they spiral around Isabelle's impenetrable silence, she herself emerges as a bright young girl in need of help yet too terrified to ask for it.
By the talented young author of FIREWORKS, this is a compelling, ultimately uplifting novel about a family in crisis, showing the delicate web that connects a husband and wife, parents and children, and how easily it can tear.
Information
Format: Paperback
Pages: 384 pages, None
Publisher: Hodder & Stoughton General Division
Publication Date: 26/12/2008
ISBN: 9780340961438
Free Home Delivery
on all orders
Pick up orders
from local bookshops
Reviews
Showing 1 - 5 of 5 reviews.
Review by laphroaig
16/06/2015
"December" is the perfect book club book - it is introspective, elegantly written and (dare I say it) middle class. But is it any good? Well, yes.While occasionally over-privileged and fraught with angst which would make a shrink roll their eyes, Elizabeth's Winthrop's novel remains tense with possibility, her characters are sharply observed and the narrative is nicely crafted. While very little actually happens, the plot is compelling enough to encourage the reader. "December" will not be everybody, but it is a good read and worth a try.
Review by BlossomMay
16/06/2015
Sometimes a book comes along that immediately suits your mood or frame of mind.Maybe if I were in a happy, carefree place at the moment, I wouldn't have enjoyed this so much.However, the ending leaves you with hope. The characters were all strong, I didn't sympathise or empathise with any of them but I didn't need to.The story is gentle, sad but it is ultimately uplifting.
Review by samsheep
16/06/2015
A story of a family with an 11 year old girl who has stopped speaking for months on end. It is told from the perspective of both parents and Isabelle herself. An intimate portrait of a family - not a huge amount happens, but I was completely gripped and the ending is perfect. Quite unexpectedly one of my best reads of the year.
Review by Mumineurope
16/06/2015
11 yo daughter that does not speak and family issues
Review by CookieDemon
16/06/2015
This novel was leant to me by a friend and the premise of it intrigued me. After recently reading `Breaking the Silence' by Diane Chamberlain (and enjoying it), the notion of selective mutism in children is quite an interesting subject and I was keen to see how this novel would tackle it, particularly from a psychological point of view. After reading a couple of pages it was clear that this would be more of a character-driven than plot-driven novel (unlike Chamberlain's), so I was therefore anticipating it to be quite slow and presumably, a bit drawn-out in parts as it looks at the nitty gritty of thoughts and emotions. I think if you can get past the idea that this book will be anything remotely fast-paced or eventful, then you will find it to be a worthwhile read and a fascinating look at human behaviour.The novel concentrates on the Carter family, in particular eleven-year-old Isabelle Carter who has inexplicably not uttered a word in months. Written off by psychologists who feel they cannot help her, her parents are blaming themselves, but at the same time turning on one another.I personally found this novel to be excellently written, though it took a little bit of time to get fully absorbed in it and admittedly some of the banalities of everyday life are a bit overly described, though real nonetheless. I enjoyed how minor aspects of Isabelle's nature and behaviour were slowly unravelled though and it made me want to learn more about her. As some things are recounted from her viewpoint, as a reader you come to understand just how mixed up she really feels, though I did get a bit frustrated and angry with her at times. She also comes across as a bit naïve and selfish.A couple of other reviewers have commented on the style of the narrative structure. I found it to be a bit stilted and awkward at first with some short sentences, but gradually got used to it and to me, eventually it became a bit reminiscent of Anita Shreve's style of writing, which I love. I also found the characters to be believability written, particularly Ruth, Isabelle's mother, who was constantly searching back in her mind as to what could possibly have impacted on her daughter's lack of speech- i.e. things she had done or not done herself when Isabelle was a young child. Ruth was a bit annoying though, in the way she treated her husband, Wilson and I didn't really like her very much, though I did feel sorry for the family's situation.I have deducted a star merely because I found that after taking so long to get there, the ending felt a little bit rushed and I don't feel that Isabelle's lack of talking was fully explained enough.As this seems to be something of a `marmite' book on here, I would personally suggest giving it a try yourself and making your own mind up- though try and pick yourself up a library version or a second-hand copy if you can- admittedly not a lot happens and it is sensitively written, but that might not be enough to satisfy everyone. I would read more books by this author in future though. *This review also appears on Amazon.co.uk*
Also by Elizabeth H. Winthrop | View all