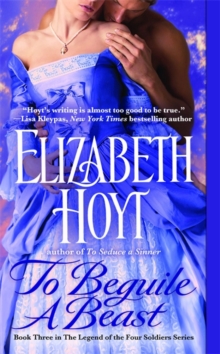 To Beguile A Beast : Number 3 in series
Paperback
Description
Sir Alistair Munroe is a naturalist knighted for his service to the crown during the French and Indian War - a war that left him horribly maimed. Because of his scars he lives a near solitary existence in a crumbling Scottish castle.
Until a dark and stormy night when he opens the door to a buxom beauty claiming to be his new housekeeper.
Helen Fitzwilliam has led a life full of mistakes, not least among them spending the last ten years as mistress to the Duke of Lister, a man without any kindness.
But when the duke takes a new, younger mistress, Helen makes a decision she knows isn't a mistake.
She leaves the duke, taking with her their two young children.
Knowing that Lister hates to give up anything--even a mistress he's cast aside--Helen flees to Scotland and the home of a man she's never met. These two wounded souls find an undeniable passion, and love, in each others arms, but the bliss of their relationship isn't to last.
The Duke steals his children away from Helen, forcing her to reveal her true past to Alistair, and a friend from Alistair's army past is back from the dead--and quite possibly involved in the betrayal that lead to the massacre of their regiment
Information
Format: Paperback
Pages: 352 pages
Publisher: Little, Brown & Company
Publication Date: 14/03/2009
Category: Historical romance
ISBN: 9780446406932
Free Home Delivery
on all orders
Pick up orders
from local bookshops
Reviews
Showing 1 - 5 of 14 reviews.
Previous | Next
Review by theshadowknows
16/06/2015
I hate to say it, but I didn't like To Beguile a Beast. Granted I had high expectations and was really looking forward to this book. Plainly put, I found it boring, with its sedate, quiet, plodding pace. The heroine, Helen Fitzwilliam, is the mistress to a powerful duke. Deciding she's sick of living without love, she runs away from him with her two children. Thanks to the meddling matchmaking machinations of the heroine from the previous book in the series, Helen seeks refuge under an assumed name at the castle of our hero, Sir Alistair Munroe - a scientist and recluse who was terribly scarred during his time spent in the Americas. She wants to be his housekeeper. He doesn't want a housekeeper. She cleans his house anyway, and he falls in love with her. He gives her some flowers, and she falls in love with him. From point A to point B that's pretty much the simple, not so speedy progression of things here. I generally hate scenarios in which the heroine comes upon a hero who, horror of horrors, doesn't care or know how to clean up after himself – this means he has no one to love him or doesn't know how to love. Yet. And then, in a portentous, metaphoric act of beneficence, she takes care of the house as she will soon take care of and set to right the hero's life. It bugs me so much, for it has the finesse of a falling anvil. In this case I could see the cleaning house = true love crutch coming from a mile away, at the first mention of Alistair's dirty, dirty castle. There just wasn't any fun to this book. If it's supposed to be a poignant, tear jerker type of romance, though, I didn't find any of that in To Beguile a Beast either. Everything was simply very staid and safe. The heroine, because she's a former mistress, has to be particularly sweet, virtuous, and nice so that we don't condemn her for her past indiscretions. It seems her character is handled with kid gloves throughout the book. She's got a sad history of seduction and neglect to make us feel sorry for her and excuse her relations with the evil duke. She's maternal and kindly, but utterly lacking in personality. I had to slog though pages of her working her fairy cleaning magic around the house, (though, granted it doesn't come easy to her, having never cleaned house before,) and doing all the domestic wifely things that Alistair is just begging for, even if he doesn't know it yet himself. And don't get me started on the puppy that has to enter the picture, to forge the bond of fatherly love between Alistair and the kids. Maybe this book was doomed from the start for me, because romances featuring children are my least favorite kind (with some notable and rare exceptions.) And even though there's an effort to get into the psyche of the older daughter at least, to give her some depth and personality, things nevertheless got a little too saccharine for me. Alistair is less horrible than Helen, in that he's got a bit more depth to him. There are many books out there with badly scarred or disfigured heroes, but Alistair is set apart from them in that he doesn't rage and moan about his lost beauty and lock himself away out of lofty self-aggrandizement. Actually he's content with his life. He has his scientific pursuits. He isn't happy, (how could he be in such a dirty castle?) but he isn't stalking the ramparts of his castle whenever a storm brews, pounding his head against the wall and bellowing over his tragic fate. He's a quiet guy who's just very nice. Scholarly, outdoorsy, and actually kind of sensitive. His feelings for his old deerhound (not the annoying puppy that comes later) did bring a tear to my eye. I like Alistair (though I didn't find him very beast-like.) He doesn't make a big deal about his scars. It's other people who do - screaming at the sight of him and all that. But even though I like Alistair, there's still not much to the story or his romance with Helen. It was hard to believe in their love for each other. Hot sex aside, there was no chemistry between them. The book is more about his relationship with her children, becoming a father type, taking them fishing, etc. Which is all very well and good, I guess. In this respect, the book has some nice moments, for, like Helen's cleaning efforts, interacting and loving the kids doesn't come easy to Alistair. But the warm family romance is rarely to my taste, and here nice gets translated into bland and predictable for me. Things don't even pick up once the evil duke shows up for some abducting (a development you can also see coming from a mile away.) The other plot development, the search for the traitor from Spinner's Falls, the mystery that is supposed to hold together the Legend of the Four Soldiers series, is only incidentally mentioned, and it's like this book isn't even a part of that overall story arc - though I actually appreciated this shift in focus. This does mean, as well, that whenever Spinner's Falls is mentioned, it seems like a distraction, and a random one at that. Even though there were some high points to the story, I kept waiting and waiting for the book to get better, to gain momentum, to really grab me. Maybe it was just my own preferences getting in the way of my enjoyment. To Beguile a Beast might not have done it for me, but Elizabeth Hoyt is still one of my fav authors, and I still like how she tells a story, so I'll be holding out hope for the next in the series. Such a long wait. *sigh*
Review by jjmachshev
16/06/2015
Yet another heart-wrenching tale of a tortured (literally) hero that had me wavering between tears and smiles. Elizabeth Hoyt's latest 'Four Soldiers' tale, "To Beguile a Beast", was one of the more touching and VERY romantic stories I've read this year. My emotions are still careening about but as long as I remember the ending I can still smile.Helen has finally made her escape from the cold and arrogant Duke of Lister. After he seduced her as a young girl and she bore him two children, she finally realized that he cared for none of them more than any other 'object' he owned. Her flight has led her to the home of Sir Alistair Munroe to be his housekeeper (and never mind that he doesn't particularly WANT a housekeeper) and as this deserted castle in the wilds of Scotland is a perfect place to hide, she has no intention of leaving...no matter how frightening or scarred or unpleasant Sir Munroe is!Alistair is sure this beautiful woman has appeared at his remote home with her children just to tempt him. He's well aware of just how frightening his countenance is...women and children scream at his appearance; so he's managed to become content living alone in his castle. But somehow, Helen just won't leave! And before long, Alistair's home is cleaner, he's come to care for the children and Helen...is his Helen of Troy. But what will he do when he learns the truth of Helen's background? And when the Duke of Lister appears?Why do I always seem to find the 'crying' books at the same time? I swear between this one and Jennifer Ashley's latest, my eyes may never be the same. But oh, how wonderfully romantic these stories are. The 'Four Soldiers' series by Hoyt is extra-entertaining as each book contains a story within a story. Along with the main romance, each book tells a fairy tale of a soldier returning from war who finds his love in an unusual way. In "To Beguile a Beast" the fairy tale concerns a man who can't lie and an ensorcelled princess trapped in the body of a beast. The fairy tale is told in short snippets at the beginning of each chapter and generally shadows the action in the main romance.Hoyt does a great job of combining passion and love and the sexual tension between the hero and heroine is hot, hot, hot. Their relationship unfolds gradually through small steps of trust and caring actions. There's also a running story of soldiers betrayed by a spy and this is how the heroes in the main romances were scarred, either mentally or physically or both, in different ways. The true romance is how the heroines come to love and trust our heroes in spite of, and perhaps because of, these scars.A truly feel-good romance with enough steam to heat your windows. I enjoyed every page of "To Beguile a Beast" and can hardly wait for "To Desire a Devil" which is scheduled for release in Nov09.
Review by dkthain
16/06/2015
I love a good Beauty and the Beast story and this one is good as that. Alister is gruff and grouchy teddy bear who is hiding away from society due to his scars. At first the last thing he wants around is a beautiful housekeeper, but ever so slowly he lets Helen and her children into his life and opens up to a less lonely and solitary life. There is a wonderful scene where he goes around waking everyone in the castle up early so he can take them all fishing.Helen is a bit more problematic for me. She has lived the life of the mistress of the powerful Duke of Lester. Despite this interesting premise, I found her a bit bland. She didn't have the courage of another historical heroine I loved.I wasn't all that impressed with the POV of Abigail her nine year old daughter either. I sound bitchy and heartless I'm sure, but I don't really care what a nine year old thinks and feels in a romance. I didn't think her POV really added anything to the story.I feel bad because I'm sounding harsher than I usually do and this book doesn't really deserve my harshness. It's a good entry into the series and after reading the excerpt for the final book in this series, I'm really looking forward to this.
Review by gaby317
16/06/2015
Synopsis:Beautiful Helen Fitzwilliam escapes London with her two young children and heads to Lord Alistair Munroe's castle in Scotland. Armed with a letter from Lady Vale but knowing little about Alistair, Helen Fitzwilliam arrives in the middle of night and introduces herself as the new housekeeper. From the start, Helen wonders whether she's made the right decision. The castle is filthy, neglected, and without servants. Alistair is gruff, irritable and horribly scarred, but this may be the safest place for them to hide, so Helen sets about learning to keep house and make herself indispensable. Though Alistair seems scarred and irritable, she starts to notice his patience, kindness, and tall lean body.Reclusive Alistair Munroe is puzzled by Helen Fitzwilliam and her children. Helen is too beautiful and well dressed to be a housekeeper, though she might be a member of the ton on a dare. Her horror at his scars convinced him that she hadn't known about him or his history. He had gotten used to avoiding human contact and wasn't looking forward to having to see the horrified looks of these newcomers. When he inadvertently learns that Helen is hiding from someone, he takes sympathy and welcomes them to his home.Meanwhile, Helen's lover is determined to find her and teach her never to run from him again.Review:I thoroughly enjoyed To Beguile A Beast. It's a light romantic read with just the right mix of suspense, romance, and humor. I liked Helen and her children. The children and their interaction with Alistair Munroe added another dimension to the story.If you're looking for a historical romance and a quick read, I recommend giving Elizabeth Hoyt's To Beguile A Beast a read.Publisher: Forever (May 1, 2009), 368 pages.Courtesy of the publisher.
Review by cinnleigh
16/06/2015
A beautiful story and a beautiful cover to boot! Due to the blurb and the gorgeous cover, I was very anxious to read TO BEGUILE A BEAST by Elizabeth Hoyt and let me tell you, it certainly did not disappoint! With vivid imagery and a truly wonderful tale, TO BEGUILE A BEAST was a wonderful, emotional story that really came to life in front of my eyes.Sir Alistair Munroe is a recluse living alone in a dirty old castle. When the beautiful Helen Fitzwilliam, along with her two young children, show up on his doorstep one night, his quiet and lonely life are suddenly tossed into a whirlwind of activity. Claiming to be his new housekeeper, despite his say otherwise, Helen creates a life for herself within Alistair's protective castle walls. Despite Alistair's raging temper and disfigured face, she'd rather be within his very filthy walls than outside where her past chases her and threatens to take away everything she loves.Helen is an extraordinary character. Hoyt bestows Helen with a fiery attitude and strong personality. Although she is a fictional character, Hoyt's writing is so fluid and so vibrant that Helen really jumps off the page. The one thing that I absolute loved about her character was how strong she was and yet how willing she was to allow herself moments where she could feel weakness. Often I find myself gravitating toward books with a strong heroine, but it isn't everyday that I find a female character strong in personality, yet willing to allow someone else to lead. This made Helen much more realistic and I found myself connecting to her actions and emotions as they pulled me through the pages.If there could be a polar opposite from Helen, it would be Alistair. He is not easy and outgoing like our lovely Helen. In fact, he is a recluse in every definition of the word. Missing an eye and covered in jagged scars, Alistair rarely leaves his castle or seeks human companionship. He is moody, quick to anger and cares little about the state of his castle. His one true love is his writing and the stories he can tell about the beauties that nature holds.I felt that the contrast between the likable Helen and the beastly Alistair were what made the book completely wonderful. Anytime the two individuals encountered each other we got a delicious taste of tension and Hoyt is a master of tension. There was rarely a slow part in any scene, rarely a time where words were on the page solely for the purpose of taking up room. Every action, every interaction was strategically placed to keep the tension going. This made it quite difficult to set the story down and I found myself going to bed earlier and earlier each night just to get back to the story sooner.When I wasn't being pulled through the story light a rubber band about to snap, I found myself flooded with emotions. There were times when the pages just raced through my hands as the anticipation drew or other times when I would linger, occasionally rereading sections of tenderness. Every interaction was filled with some emotion, whether happy or sad, delighted or ragingly angered. That was definitely what caught within the first chapter and held me close. The pure emotion that swam between the covers was wonderful and made for a truly enjoyable read.If you have not yet read TO BEGUILE A BEAST, I do highly recommend that you go out and pick it up. Technically, it is Book 3 in The Legend of the Four Soldiers series but don't let that stop you. I have not yet read the previous books and I don't think it detracted from the story one bit. If you loved Jennifer Haymore's A Hint of Wicked, I think you'll absolutely adore TO BEGUILE A BEAST.
Also in the Legend of the Four Soldiers series