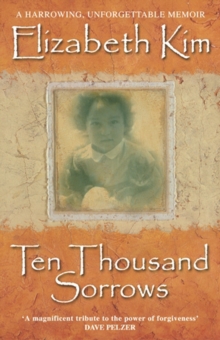 Ten Thousand Sorrows
Paperback
Description
I don't know how old I was when I watched my mother's murder, nor do I know how old I am today.' The illegitimate daughter of a peasant and an American GI, Elizabeth Kim spent her early years as a social outcast in her village in the Korean countryside. Ostracized by their family and neighbours, she and her mother were regularly pelted with stones on their way home from the rice fields. Yet there was a tranquil happiness in the intense bond between mother and daughter. Until the day that Elizabeth's grandfather and uncle came to punish her mother from the dishonour she had brought on the family, and executed her in front of her daughter. Elizabeth was dumped in an orphanage in Seoul. After some time, she was lucky enough to be adopted by an American couple. But when she arrived in America she found herself once again surrounded by fanaticism and prejudice. Elizabeth's mother had always told her that life was made up of ten thousand joys as well as ten thousand sorrows, and, supported by her loving daughter, and by a return to her Buddhist faith, she finally found a way to savour those joys, as well as the courage to exorcise the demons of her past.
Information
Format: Paperback
Pages: 240 pages
Publisher: Transworld Publishers Ltd
Publication Date: 01/07/2002
Category: Autobiography: general
ISBN: 9780553812640
Free Home Delivery
on all orders
Pick up orders
from local bookshops
Reviews
Showing 1 - 1 of 1 reviews.
Review by Ireadthereforeiam
16/06/2015
There is no doubt that this is the story of a life that was unfair from the beginning. Born post-Korean War to an absent GI father, and subsequently shunned villager, Elizabeth was seen as a non-human for 2 reasons, being a girl, and being of mixed race.The things she sees and experiences as a child are bad enough in her home country, but when she is adopted by a "nice religious American family".......the abuse continues behind closed doors. This time in the name of God. Terrible things happen to her, and yet we know from the fact that the book is written that she comes good. Thank goodness. It might have been hard to read otherwise.This is a real facing of demons book, and the author has a lot to face. What an inspirational person. It has made me very grateful that my life is peaceful and violence-free. Amen.
Also by Elizabeth Kim