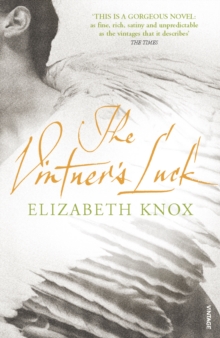 The Vintner's Luck
Paperback
Description
Burgundy, 1808. One night Sobran Jodeau, a young vintner, meets an angel in his vineyard: a physically gorgeous creature with huge wings that smell of snow, a sense of humour and an inquiring mind.
They meet again every year on the midsummer anniversary of the date.
Village life goes on, meanwhile, with its affairs and mysteries, marriages and murders, and the vintages keep improving - though the horror of the Napoleonic wars and into the middle of the century, as science marches on, viticulture changes, and gliders fly like angels. Longlisted for the Orange Prize for Fiction.
Information
Format: Paperback
Pages: 256 pages
Publisher: Vintage Publishing
Publication Date: 01/03/2000
ISBN: 9780099273899
Free Home Delivery
on all orders
Pick up orders
from local bookshops
Reviews
Showing 1 - 5 of 7 reviews.
Previous | Next
Review by jeniwren
16/06/2015
Set in 18th century Burgundy , France 'The Vintner's Luck' tells the story of a vintner Sobran Jodeau and an angel called Xas. From their first meeting and then every year on the anniversary we follow their story and the complex relationship between this man and angel which takes them on a lifetime journey of self discovery.Written in lyrical prose and full of extraordinary characters this is brimming with original ideas that had me thinking deeply about my own philosophy on God, angels, heaven and hell. Knox has an astonishing gift of language and imagery. A memorable novel where I found myself reading passages several times over to savour the words and wishing the moment would never come when I would have to turn to the final page.
Review by Lman
16/06/2015
To begin with: <i>The Vintner's Luck</i> confers a rather unique slant on the term "guardian angel". Further to that: this achingly glorious tale, like the wines alluded to throughout, embodies an intense and powerful expression - a singular interpretation - of spirituality and religious faith many labour a lifetime to grasp. A bona fide attempt to explain the inexplicable, to clarify the controversial, this sweeping epic elicited a profound response in me, felt deeply to my very bones.This is a story of appetite: of yearning and passion, of violence and depravity, of faith and trust; and of the many kinds of love. The premise is quite simple, despite the mysticism – in Burgundy, in 1808, Sobran Jodeau, 18 years old and the eldest son of the vintner of Clos Jodeau, begins a life-long association with the angel, Xas; whom he meets one night under the cherry trees in the vineyard, where he has gone, with two of the latest-bottled <i>friand</i>, to drown his youthful sorrows and, instead, finds his distress dissembled and himself, for reasons perhaps unfathomable to both, committed to an annual assignation with this beautiful unearthly creature. The ensuing relationship is, however, quite complex; what follows is an intricate account of the next 55 years of Sobran's life, each chapter (be it one short paragraph or many pages) correlating to each consecutive year and cunningly associated with a vintage of wine. But like the pressing of the annual crop of grapes, the product is often unpredictable; subsequent outcomes as rich and fulfilling as a finely-aged wine, at other times as bitter and acrid as only this beverage, and life, can yield.What a potent and evocative tale this is! There is a lyrical timbre to the writing of this work pointedly derived from the seasonal trappings of a vintner's life in this small village in the Napoleonic era; dissonance emerging at particular intervals from unanticipated happenstance - bewildering in their oddness, amazing in their complexity, but sharply intuitive in their display of reality, and of truth. Yet, amongst these sometimes quite crude and vulgar portrayals are contrasting and gorgeously-inventive descriptors – of heaven and hell, and celestial creatures and their indestructible bodies and of their wings - superbly redolent in their imagery! Can you not taste and smell the snow? Are you not in awe of these feathery appendages? And are you not taken aback, at times, by the droll commentary from this angel, by the notable humanity of this inhuman being…with the ensuing pain? There is a full cast of remarkably-drawn characters in this riveting tale, all fascinating and all worthy of note; but none quite so diverting, quite as intriguing as this otherworldly spirit – how not?Truly exquisite, this is a challenging but non–judgemental chronicle – and undoubtedly a polarising one at that! Though not readily discernible in its underlying theme some inkling may be afforded from the book's epigraph, and in its final words. Nature is a force few can, or should, reckon with – her laws impossible to thwart, no matter one's inception or divinity. Food for thought at the very least…a veritable feast to my mind.(Aug 16, 2009)
Review by phoebesmum
16/06/2015
Unusual, compelling, and beautifully written story of the almost century-long relationship between a French vintner and an angel.
Review by StellaSandberg
16/06/2015
I found this novel oddly unengaging despite its intriguing subject matter. Partly it may be because this relatively short novel covers so many years from several different characters' perspective, which makes the narration rather brief and distancing. I never particularly cared for or believed in any of the characters, especially not as 19th century people. The angels were not quite otherworldly or awe-inspiring enough, but rather too much in the vein of the oh-so-popular domesticated vampires etc. - slightly superhuman hunks. Some of the ideas (like the physicality of angels and the mundane details of their existence) were fascinating but the language was just not exquisite enough to make them come alive. Also, I found the wine theme permeating the formal structure cheesy and superfluous, and the same thing can be said for the tacked-on murder mystery. Overall, there were just too many elements in this otherwise decent novel that seemed to be positively begging for best-seller status and film adaptation.
Review by PennyAnne
16/06/2015
I read this book for my bookclub and if it hadn't been for that I may not have continued reading past the first 50 pages. My initial impression of this book was that it was a little dull and odd and I would rather not read it. Having now finished it I can say that I ended up really entranced by this story of 19th century French vintner Sobran and his yearly meetings with the fallen angel Xas. The pace of the story is slow and the characterisations outside of the main players is fairly vague but overall the story charmed me. Sobran didn't appeal to me much as a person but the angel is wonderful. I'm sure I didn't understand everything this book was "getting at" but it left a mark on me and I find myself turning parts of the story over in my head and wondering what was meant or even wondering what different characters might have been thinking or feeling at different times. I'm glad this book came up for my book club or I might have missed something quite delightful.