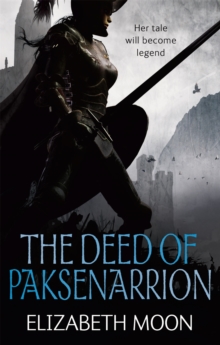 The Deed Of Paksenarrion : The Deed of Paksenarrion omnibus
Paperback
Description
Paksenarrion wasn't planning to submit to an unwelcome marriage and a lifetime of poverty, so she left her village with a plan and her grandfather's sword. And a few weeks later, she was installed as Duke Phelan's newest recruit in a company of soldiers for hire, her arms training about to begin.
But when Paks sees combat, she's stabbed with an ensorcelled knife and barely survives.
Then the near-misses start mounting up, raising questions about this young fighter.
Is she attracting evil because she is a danger to them all? Or is there another reason malignant forces seek her life?Paks will face the spider-minions of the Webmistress Achrya, orcs and the corrupted men who serve blood mage Liart, Master of Torments.
She will also earn the gratitude of elves and of her Duke. And through conflict she will learn she has powers of her own and a destiny.
To become a gods-chosen Paladin of Gird, and a target for the ultimate torture.
Information
Format: Paperback
Pages: 1216 pages
Publisher: Little, Brown Book Group
Publication Date: 01/01/2010
Category: Fantasy
ISBN: 9781841498546
Free Home Delivery
on all orders
Pick up orders
from local bookshops
Reviews
Showing 1 - 1 of 1 reviews.
Review by eleanor_eader
16/06/2015
This is the omnibus edition of the Paksennarion trilogy, and first of the 'Paksworld' series, a fairly hefty tome, yet I raced through it at speeds that would, if you compared it to a meal, have left me with fatal indigestion. What can I say; I've been starved of truly engaging reading material all year.At first I didn't even know if I was going to warm to it; Paks herself was a little too dutifully eager, the story and world a little too straightforward… other reviewers suggest a link to D&amp;D rules which, as I've never played, I can't comment on, but there's a definite <i>discipline</i> going on, not just with Paks, but with the author too… her protagonist <i>had</i> to go through training as a recruit, innumerable marches, daily drills and the confusion of fighting as a private; and that, with some increasingly important battles towards the end, is the first book. At which point, Paks still isn't even a veteran fighter, although she's earned some respect and some responsibility. And I think it's this realism that hooked me, that and the sense that her journey of discovery would be extended over the course of the three books and tightly woven into the plot.The more that seemed ordinary about these books, the closer I started to look… firstly, although she's a female protagonist who acquires skills and powers, written by a female author, Paks is no Mary Sue … why in the world would Elizabeth Moon <i>need</i> one? She's a US marine with several other skill sets and a writing career under her belt. Paks is written entirely for the story, and the reader's satisfaction, earning everything she gains. Secondly, there's no romantic sub-plot; a strong loyalty to the Duke who first enlists her, a close friendship with another young private, but Paks states herself 'not interested' in bedding anyone from the company, and there it rests. No male crutch to hold her up in 'weak' moments (although she accepts help when she needs it) and no over-compensating by sleeping around casually as a sop to 'equality'. Elizabeth Moon is going to the top of my 'great writers of female characters' list (which she was already on for <i>Remnant Population</i>). Then there's the slow unfolding of Paks' career… such focussed storytelling ought to have sent me to sleep, but it's <i>exciting</i>… the reader gets caught up in Paks' eagerness to fight and to learn, and most of what's revealed about the world which she inhabits comes as she discovers it herself, slowly acquiring more than just a view of the enemy in front of her… by the end of the second book, it's shaping up into a richly imagined landscape of allies and looming dangers, using every possible leeway and advantage in the 'dwarves, elves, magical artefacts' base-line; and by the end of the second book, Paks has met with real trouble.This trouble is the catalyst for a series of hard life-lessons at the beginning of the third book, and it's this balance that makes this trilogy of stories a great 'omnibus' collection, (although the series now extends beyond this trilogy, I don't believe they follow Paks except as a recurring character)… read separately, I don't think any of the stories would be as satisfying, but taken as one long series of adventures with a overreaching purpose, they work very well. I've enjoyed Moon's writing in the past, but on a sort of <i>well, it's there so I'll read it</i> basis, and never so thoroughly… I'm now going to have to find the rest of the 'Paksworld' books and dedicate myself to some prolonged fantasy-fiction immersion.