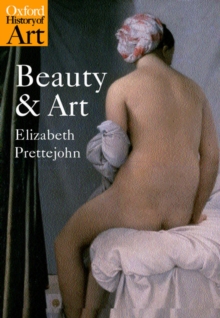 Beauty and Art : 1750-2000
Paperback
Description
What do we mean when we call a work of art 'beautiful'? How have artists responded to changing notions of the beautiful?
Which works of art have been called beautiful, and why?
Fundamental and intriguing questions to artists and art lovers, but ones that are all too often ignored in discussions of art today.
Prettejohn argues that we simply cannot afford to ignore these questions.
Charting over two hundred years of western art, she illuminates the vital relationship between our changing notions of beauty and specific works of art, from the works of Kauffman to Whistler, Ingres to Rossetti, Cezanne to Jackson Pollock, and concludes with a challenging question for the future: why should we care about beauty in the twenty-first century?
Information
Format: Paperback
Pages: 224 pages, numerous colour and halftone illustrations
Publisher: Oxford University Press
Publication Date: 05/05/2005
Category: Art & design styles: Pre-Raphaelite art
ISBN: 9780192801609
Free Home Delivery
on all orders
Pick up orders
from local bookshops
Reviews
Showing 1 - 1 of 1 reviews.
Review by Kellswitch
16/06/2015
I found this look at the development of the concept of beauty in art fascinating since I have always taken the idea itself for granted, of course art is beautiful. I never really thought about how that idea had to form and gain acceptance and constant be rethought and re-challenged as art forms changed, grew and matured.It's easy to forget how shocking the Impressionist movement was in its day or how radical it was to create art for its own sake instead of to teach a lesson or reflect an event in history.It is easy to forget in general how much of our thoughts and attitudes towards many things have been shaped by those who came before us in ways we don't even realize.Overall the writing style was very approachable and easy to follow and I loved how many color plates there were so the reader could actually see what the author was referring to especially when comparing and contrasting different works, almost every major example cited was given a colored plate to back it up. This is not done nearly enough in books on art.There were a few times the writing got a bit dense and hard to follow, mostly in the end of the book as the author delved into our Modern Art, though this may have more to do with my own bias with this art form and critics who write about it than the writing of the author of this book. Overall this book has made me think more about my own attitudes towards art and to appreciate the work others have done in the past allowing me to experience art in the way I do.
Also in the Oxford History of Art series | View all