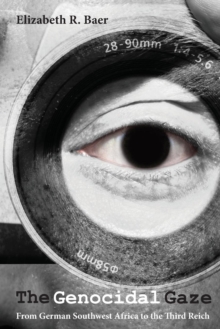 The Genocidal Gaze : From German Southwest Africa to the Third Reich
Paperback / softback
Description
Examines literature and art to reveal the German genocidal gaze in Africa and the Holocaust. The first genocide of the twentieth century, though not well known, was committed by Germans between 1904-1907 in the country we know today as Namibia, where they exterminated thousands of Herero and Nama people and subjected the surviving indigenous men, women, and children to forced labor.
The perception of Africans as subhuman-lacking any kind of civilization, history, or meaningful religion-and theresulting justification for the violence against them is what author Elizabeth R.
Baer refers to as the "genocidal gaze," an attitude that was later perpetuated by the Nazis.
In The Genocidal Gaze: From German Southwest Africa to the Third Reich, Baer uses the trope of the gaze to trace linkages between the genocide of the Herero and Nama and that of the victims of the Holocaust.
Baer also considers the African gaze of resistance returned by the indigenous people and their leaders upon the German imperialists. Baer explores the threads of shared ideology in the Herero and Nama genocide and the Holocaust-concepts such as racial hierarchies, lebensraum (living space), rassenschande (racial shame), and endloesung (final solution) that were deployed by German authorities in 1904 and again in the 1930s and 1940s to justify genocide.
She also notes the use of shared methodology-concentration camps, death camps, intentional starvation, rape, indiscriminate killing of women and children-in both instances.
While previous scholars have made these links between the Herero and Nama genocide and that of the Holocaust, Baer's book is the first to examine literary texts that demonstrate this connection.
Texts under consideration include the archive of Nama revolutionary Hendrik Witbooi; a colonial novel by German Gustav Frenssen (1906), in which the genocidal gaze conveyed an acceptance of racial annihilation; and three post-Holocaust texts that critique the genocidal gaze.
Baer posits that writing and reading about the gaze is an act of mediation, a power dynamic that calls those who commit genocide to account for their crimes and discloses their malignant convictions.
Her transnational analysis provides the groundwork for future studies of links between imperialism and genocide, links among genocides, and the devastating impact of the genocidal gaze.
Information
Format: Paperback / softback
Pages: 208 pages, 30 black & white photographs
Publisher: Wayne State University Press
Publication Date: 30/08/2017
Category: Literary studies: general
ISBN: 9780814343852
Free Home Delivery
on all orders
Pick up orders
from local bookshops
Also by Elizabeth R. Baer