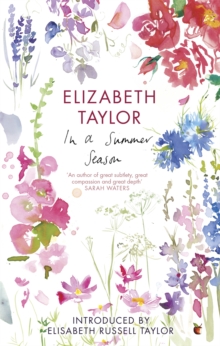 In a Summer Season
Paperback
Description
"You taste of rain," he said, kissing her. "People say I married her for her money," he thought contentedly, and for the moment was full of the self-respect that loving her had given him.' Kate Heron is a wealthy, charming widow who marries, much to the disapproval of friends and neighbours, a man ten years her junior: the attractive, feckless Dermot.
Then comes the return of Kate's old friend Charles - intelligent, kind and now widowed, with his beautiful young daughter.
Kate watches happily as their two families are drawn together, finding his presence reassuringly familiar, but slowly she becomes aware of subtle undercurrents that begin to disturb the calm surface of their friendship.
Before long, even she cannot ignore the gathering storm . . .
Information
Format: Paperback
Pages: 272 pages
Publisher: Little, Brown Book Group
Publication Date: 06/04/2006
ISBN: 9781844083206
Free Home Delivery
on all orders
Pick up orders
from local bookshops
Reviews
Showing 1 - 2 of 2 reviews.
Review by gaskella
16/06/2015
Many have told me that I should read the books of Elizabeth Taylor - an author I'd not heard of until the publication of Nicola Beauman's recent biography The Other Elizabeth Taylor by the wonderful Persephone Books. I picked up this particular one for its striking cover photo, and was told by pal Helen, that it was about a woman who marries a much younger man - a toy boy! - well that sold it to me instantly.Published in 1961, it follows one summer in the lives of a family living in the Thames Valley, with 'The View' of Windsor castle visible in the far distance. This is already prime commuter belt - every day the men go off to work on the train to their jobs in the city - well, everyone except Dermot that is. He is the young Irish thirty-something husband of forty-something well-off widow Kate. They live in some comfort with Kate's sixteen year old daughter Louisa and twenty-two year old son Tom, her Aunt Ethel, and looked after by cook Mrs Meacock. As the novel opens, Kate is on a duty visit to her new mother-in-law, Edwina, up in London for the day. Edwina is always trying to find a job for her youngest, who has never been able to settle at anything or anyone until he fell in love with Kate.In the first half of the movel we find out what makes them all tick - and frankly, it's all about sex. Kate with her younger husband, Tom with his girlfriends, and Louisa's growing awareness and crush on the young curate in the village. Aunt Ethel watches all these mostly repressed emotions and assesses it in her letters to her friend Gertrude - "When the sex goes Kate will think him no bargain".Then the Thorntons return from abroad. The Thorntons, Charles and Dorothea, were Kate and her first husband Alan's best friends, and Tom had a thing for Minty, their daughter. Charles' wife died and Kate is keen to make them feel at home again now they're back in England. There are bound to be problems - as three's a crowd - Charles and Kate are the same age, whereas Dermot is closer to the children in age and sometimes, outlook. "They were walking in circles around each other, Kate thought - both Dermot and Charles. When she had introduced them, Dermot had shaken hands with an air of boyish respect, almost adding 'Sir' to his greeting, and Charles seemed to try and avoid looking at him or showing more than ordinary interest. Although he had not met him before, even as far away as Bahrain he had heard stories, and Kate, writing to tell him of her marriage, had done so in a defensive strain, as if an explanation were due and she could think of no very good one."The story is mainly told from Kate's point of view, but we hear not only her voice, but her thoughts also - and the two are often opposite. In that terribly repressed middle-class way, everyone says one thing and means another. The author takes a scalpel to these relationships and dissects them with sensitivity and wit, bringing things to a climax with great skill. I can safely say this novel made an instant fan of me, and I wonder why I never discovered her before.
Review by rainpebble
16/06/2015
It took me some pages to get into this one but I ended up loving it a great deal. With Taylor I frequently find that my favorite characters are not the lead characters but the secondary ones and with In A Summer Season this was no different. I really enjoyed the characters of Lou, Charles, Ethel, Edwina, & Father Blizzard. I even engaged with Tom whom I found to have so many underlying issues to think about as I read of him. But Kate was a bore and Dermot a juvenile idiot with no redeeming qualities. What a letdown he must have been after Kate's first husband.The end of the book did not surprise me in the least as I had been waiting for it since the purchase of the new auto.But I love how Ms. Taylor reveals the layers of her characters to us. And she takes her time with the storyline and lets it flow. I am looking forward to the September selection, The Soul of Kindness. I am loving reading one special author throughout the year and already looking forward to next year's author of choice.
Also in the Virago Modern Classics series | View all