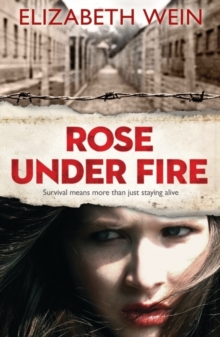 Rose Under Fire
Paperback
Description
The thrilling story of one young ATA pilot's unforgettable journey through World War Two.
This is Rose Under Fire. Rose Justice is a young American ATA pilot, delivering planes and taxiing pilots for the RAF in the UK during the summer of 1944.
A budding poet who feels most alive while flying, she discovers that not all battles are fought in the air.
An unforgettable journey from innocence to experience from the author of the best-selling, multi-award-nominated Code Name Verity.
From the exhilaration of being the youngest pilot in the British air transport auxiliary, to the aftermath of surviving the notorious Ravensbruck women's concentration camp, Rose's story is one of courage in the face of adversity.
Elizabeth Wein is fast growing into one of the most important names in historical books for young adults.
In this, her second book for Egmont Press, she explores a World War 2 story of great significance and harrowing consequences.
Something made more haunting by the backdrop of the real-life events of Nazi Germany.
Praise for Code Name Verity: "It does more than stick with me.
It haunts me. I just can't recommend it enough" Maggie Stiefvater, bestselling author of Shiver "I was bereft when I finished it" Jill Mansell "It's about friendship and bravery, loyalty and love, and will most definitely leave you sobbing" The Bookseller "This is a remarkable book" Daily Mail
Information
Format: Paperback
Pages: 480 pages
Publisher: Egmont UK Ltd
Publication Date: 03/06/2013
Category: Historical
ISBN: 9781405265119
Other Formats
Paperback from £7.15
EPUB from £3.74
Free Home Delivery
on all orders
Pick up orders
from local bookshops
Reviews
Showing 1 - 4 of 4 reviews.
Review by krau0098
16/06/2015
I got a copy of this book to review through NetGalley(dot)com. So thanks to NetGalley and Disney-Hyperion for making this book available for review. I loved Code Name Verity so much that I was thrilled to see that a companion novel was being released. This book was much different from Code Name Verity, I didn't like it quite as much but it was still an excellent read.This book follows Rose, a female American pilot, as her plane is brought down in enemy territory and she is placed into an all woman concentration camp called Ravensbrück. It really is about all of the horrible medical experimentation that happened to a group of women there.I didn't find it as riveting and engaging as Code Name Verity, but it was still an excellent recounting of women's role in WWII. Maddie is in the story some (she was in Code Name Verity) but more in a supporting role. Julie is mentioned but not in the story really. This book takes place after Code Name Verity time wise.Rose is an interesting character. She loves flying and wants women to be allowed to fly in combat zones, but she is terrified of the unmanned bombs that have been taking down so many of the planes. She is in the unique situation of being mistakenly placed into the concentration camp because of paperwork that is messed up. She also has a knack for survival that helps her survive the atrocities of this concentration camp.This book gives an interesting account of World War II and the Nazi concentration camps. It explores an area I haven't read much about previously which are the medical experiments run on some of the young women there. It also gives some insight into the Nazi women who ran the camp; in many cases the situations they are forced into are just as bad. The story takes place towards the end of World War II so it was also interesting to see how the Nazis try to cover their butts as all the horrible things they have done come to light.The book loses a bit of suspense because the story is being told from Rose's perspective after everything happens; so you know right from the beginning that she makes it out of the concentration camp. The thing that really propels the story is finding out how she made it out and reading about how she is trying to put herself back together after everything that happens to her. A good portion of the book is setup for how Rose got put into the concentration camp. A good portion of the story also focuses on how tough it is for Rose to integrate herself back into society after she is out.The story is told in an interesting way. Basically the book is written by Rose after she has made it out of the concentration camp and is healing/hiding in a hotel room in the Ritz. Rose decides since she can't bring herself to talk about what happened in the camp that she will write the whole story down on paper.This book along with Code Name Verity and The Book Thief by Markus Zusak are all excellent accounts of the Holocaust and appropriates for young adults. These books explore areas that aren't normally talked about; for example the role women played in WWII and how WWII affected the general non-Nazi German population. They are books everyone should read so that they can understand the atrocity of this events.Overall another excellent story and an excellent read. Highly recommended to everyone. Naturally a lot of what happens in this book is very disturbing so I would recommend to young adult and older.
Review by Herenya
16/06/2015
Note: No spoilers for Rose Under Fire or Code Name Verity. Rose Under Fire is compelling, emotional, heartbreaking yet also hopeful. A story about friendship, survival and needing for the world to know the truth about what happened to women in the concentration camps.It's the companion novel to Code Name Verity, not a sequel. It has a different heroine, is set later during World War II, and focuses on a different aspect of the war; it differs in tone and structure.While Rose meets characters from Code Name Verity - and it was strange and fascinating to see those characters from the perspective of someone who doesn't always know them very well, nor realise of the significance of her observations - Rose Under Fire is not their story. Instead, it belongs to Rose. Rose Justice, an 18 year old American pilot who begins keeping a diary during the summer of 1944. She is in England, ferrying planes and the occasional passenger for the ATA. She's also a budding poet, and poetry is unexpectedly important to her survival when she ends up in a German concentration camp. Thematically, Rose Under Fire follows similar threads to Code Name Verity and picks up on others which CNV didn't fully explore. It is about a different aspect of WWII, but it is still women's experiences of WWII, flying aeroplanes, powerful friendships and bravery in the face of horrible circumstances. It is related. These stories belong together.Rose and her friends prevent the story from being unbearably dark. They are vivid, lively, passionate people, clinging to life and hope with amazing strength. I love how they work together and support each other - even when they don't always agree.And I love that Rose is a poet, that her poetry is important to the story, and that the novel shows her growth as a writer.Something else I appreciated about Rose Under Fire is that Wein does not perpetuate a black-and-white view of war. She doesn't make absolute statements about certain cultural groups, and she reminds us that the people involved in this war are all human beings. Not all of her German characters are evil. Is Rose Under Fire as good as Code Name Verity? Is it better? Do I like less or more?I cannot answer. I could highlight the differences between the two novels but I cannot fairly compare them. (Especially since my experiences of the two stories were so different - I listened to the audiobook for Code Name Verity, but read this in paperback). And I don't think it matters. Rose Under Fire is worth reading. Rose might be fictional, but the sorts of experiences she has are not. That needs to be acknowledged.There are some things which the world should never forget.
Review by wyvernfriend
16/06/2015
Rose Justice is a ATA pilot, ferrying people and planes so that men can fight. One day, on a routine flight in Europe she tries to interfere with a doodlebug and ends up being escorted to an airport by some German pilots. From there she ends up in Ravensbruck where she witnesses some terrible things.<br/><br/>The book is laid out as diaries, at first she's full of enthusiasm and spirit and then when she's recalling what happened to her, it's heartbreaking and also there's her work on getting herself back to herself, that broke my heart. She's a smart girl who becomes a woman under terrible circumstances that would break most people and then she finds herself wanting different things from where she was earlier in the war. She's a character who develops and while she will never regain her former self is still a whole person.<br/><br/>Interesting and heartbreaking, the list of Ravensbruck rabbits in the title page would break your heart when you think about it and the author sucked me in and made me care. It's not Code Name Verity. It stands well alone without Code Name Verity, with some similar themes but if you're looking for a revisit of the same story you will be disappointed.
Review by Eyejaybee
16/06/2015
Another gripping novel from Elizabeth Wein, one again focusing on the work of female pilots during the Second World War. The principal character of this book is Rose Justice, a young American woman ho has been working flying planes around Britain. Shortly after the D Day invasions she finds herself flying some luminaries to Paris. There she is scheduled to collect a spitfire to be flown back to Britain where it will be refitted as a reconnaissance plane. However, on her journey back she spots, and successfully deflects, a V1 bomb that had been launched against Paris. However, her diversion to tackle the V1 has disastrous consequences as it takes her beyond the front line, and while she si struggling to reorient herself she finds herself by two German jet-powered fighter planes.Like Wein's previous novels, this is peopled with some very engaging characters, and Rose's plight is described in grim, but never sensationalist, detail.