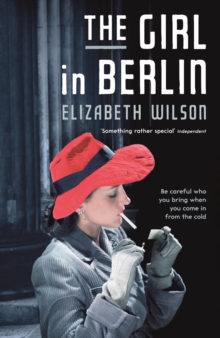 The Girl in Berlin
Paperback
Description
Summer, 1951. Two suspected spies, Burgess and Maclean, have disappeared, and the nation is obsessed with their whereabouts.
Speculation is at fever pitch when Colin Harris, a member of the Communist Party who has been in Germany for several years, turns up to see his old friends Dinah and Alan Wentworth.
He has news: he has fallen in love with a girl in East Berlin, and is coming home - with her - for good.
Meanwhile, Jack McGovern, who sometimes feels like the only decent man in Special Branch, has a rendezvous with a real spy.
Miles Kingdom thinks there's a mole at MI5, and he wants McGovern's help. A novel about secrets, betrayal and unearthing the truth, The Girl in Berlin is a reminder that when nothing is as it seems, no-one can be trusted - even those you think you know best.
Information
Format: Paperback
Pages: 320 pages
Publisher: Profile Books Ltd
Publication Date: 16/05/2013
ISBN: 9781846688270
Free Home Delivery
on all orders
Pick up orders
from local bookshops
Reviews
Showing 1 - 1 of 1 reviews.
Review by Eyejaybee
16/06/2015
This is a gem of an espionage novel, reminiscent of early le Carre.The principal protagonist is Jack McGovern, a Detective Inspector in Special Branch. While he enjoys the work he has is conscious of the rift it causes between him and his father, a Communist and former leader of industrial action in Glasgow's docks. The novel is set in 1951 and opens with the news that Guy Burgess and Donald Maclean have disappeared, and are believed to have fled to the Soviet Union to escape being unmasked as spies. One of the characters works in the Courtauld Institute and we are given an excellent vignette of the Institute's director, Dr Anthony Blunt, as he is hounded by reporters eager to know if he had been involved. [This was intriguing given that Blunt wasn't formally unveiled as one of the Cambridge spies until the late 1970s, though apparently there had always been some suspicions about him.]Colin Harris, a British socialist who had emigrated to East Germany pays a visit to London and meets up with former friends who are surprised to learn that he is engaged (Harris had previously been known as a committed homosexual). McGovern is asked to investigate Harris to see what he is really after. It transpires that Harris had been prosecuted for and, indeed, convicted of murder, subsequently being acquitted after an appeal. Meanwhile Konrad Eberhardt, an eminent German scientist who had fled to Britain in 1938, is murdered, having been seen with Harris at the funeral of an eminent socialist activist. McGovern has to determine whether this was merely coincidence, especially since rumours begin to circulate that Eberhardt was about to publish his memoirs. Other rumours suggest that, far from fleeing the Nazi regime, he had been a closer sympathiser of Hitler.The ploy has labyrinthine twists, though these never seem superfluous. The characters are vivid and believable, and I look forward to reading more by Elizabeth Wilson.