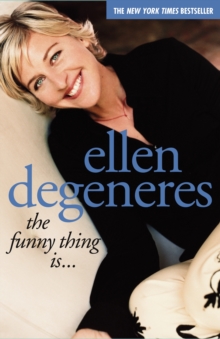 The Funny Thing Is...
Paperback
Description
'Why write a second book, you ask? Because there are some words I didn't use in the first one,' Ellen quipped when asked about her new collection of essays.
Sharply observant and brilliantsly absurd, Ellen's unique voice and original perspective made her first book, MY POINT...AND I DO HAVE ONE, an instant, #1 New York Times bestseller.
Now she turns her attention once again to the written word, spinning simple observations into imaginative essays, mixing her trademaek self-deprecating wit with a smart sophistication perfectly tailored for the page.
Here Ellen offeres riffs on everything from why a prison stay might not be so bad to a eulogy for her coffee addiction; from her memories of a visit to God's house to how salespeople have figured out that saying 'It makes your ass look fabulous!' will get you to buy just about anything.
Whimsical, clever and always spot-on observant, THE FUNNY THING IS...is a satisfying follow-up to Ellen's smash hit bestseller - a collection that perfectly captures the brilliance of this comic supernova.
Information
Format: Paperback
Pages: 192 pages
Publisher: Simon & Schuster Ltd
Publication Date: 01/10/2004
Category: Humour
ISBN: 9780743247634
Other Formats
EPUB from £6.49
eAudiobook MP3 from £15.08
Free Home Delivery
on all orders
Pick up orders
from local bookshops
Reviews
Showing 1 - 5 of 8 reviews.
Previous | Next
Review by alanna1122
16/06/2015
Ba dum bum bump - cshhhh.It really surprised me how old-fashioned Ellen's humor was in this book. It's full of soft one-liners. (example- [Paraphrased] - I'm glad the audience was laughing with me - not at me - like the time I wore my shirt on backwards during a show) I really expected her humor to be more complicated and smarter - there were a couple of moments that were pretty funny... but all in all - I found this book barely entertaining. I remember reading her first book (about 10 years ago now...) and thinking that it was really funny. Maybe I have been spoiled by all the Sarah Vowell and David Sedaris I have read since her first book.I will say one thing for it... its a slim book and a very fast read... so even if you aren't enjoying it... there isnt much to it.
Review by bibliophile26
16/06/2015
I recently saw her comedy special on HBO and laughed by ass off. The book was hilarious. Obviously a lot of people associate Ellen with homosexuality, but she doesn't mention this much in either of her books. I'm not sure if this is a good or bad thing. Regardless of labels, Ellen is funny and so many of her essays are right on target. I can't recommend this book highly enough.
Review by DanaJean
16/06/2015
I love Ellen. I think she's witty and smart and super funny. But, this book was a huge ho hum for me. And maybe part of that is due to the fact that I've seen her perform most of this book in her TV stand-up shows. The jokes fell flat and lost something in translation. Ellen is a very physical comedienne; her timing, body movements, facial expressions and wide-eyed innocence are what make her jokes hysterical. It's a package deal with Ellen. Just reading the jokes simply didn't make the cut for me and I was really bummed by this. If you've never seen Ellen perform, then the book might be okay--but I have a strong feeling it would still rank pretty below average. A disappointing read for me. But I still love Ellen.
Review by Oreillynsf
16/06/2015
I love Ellen, but her brand of human really doesn't work in print. With Ellen, it's all about pacing and delivery, and in book form that is really hard to replicate. Nigh on impossible.
Review by doxtator
16/06/2015
The book reads more like an on stage presentation of a stand up routine than it does of anything else, which I suppose was mostly the objective for the book. There are some funny moments, and a lot of amusing topics, but overall it felt a little forced, and a few of the bits were way off in left field. I think it lost something by being in print, and that the mannerisms of the author in the delivery of such material is what makes it more funny than when it is just read off the page with the memory of her style.