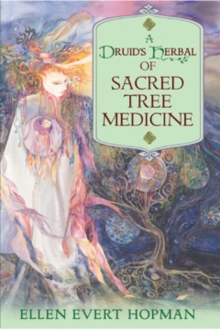 A Druid's Herbal of Sacred Tree Medicine
Paperback / softback
Description
The Druids used the ancient Ogham Tree Alphabet to work magic and honour the dead, surrounding each letter with medicinal and spiritual lore.
Poets and bards created a secret sign language to describe the letters, each of which is named for a tree or a plant.
For centuries this language was transmitted only orally in order to protect its secrets.
Combining her extensive herbal knowledge and keen poetic insight, Ellen Evert Hopman delves deeply into the historic allusions and associations of each of the 20 letters of the Ogham Tree Alphabet.
She also examines Native American healing methods for possible clues to the way ancient Europeans may have used these trees as healing agents.
Druidic spiritual practices, herbal healing remedies and plant lore are included for each tree in the alphabet as well as how each is used in traditional rituals such as the Celtic Fire Festivals and other celebrations.
Hopman also includes a pronunciation guide for the oghams and information on the divinatory meanings associated with each tree. * Details the 20 trees of the ogham alphabet and their therapeutic and magical virtues* Examines the Forest Druid practices associated with each tree as well as the traditional uses in Native American medicine* Describes the Celtic Fire Festivals and how each tree is featured in these holy days
Free Home Delivery
on all orders
Pick up orders
from local bookshops