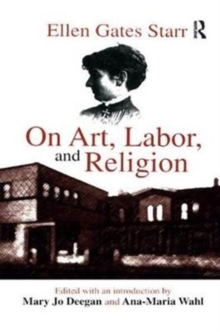 On Art, Labor, and Religion
Paperback / softback
Description
Chicago was a tumultuous and exciting city in 1889.
Immigration, industrialization, urbanization, and politics created a vortex of social change.
This lively chaos called out for both celebration and reform, and two women, Ellen Gates Starr and Jane Addams, responded to this challenge by founding the social settlement Hull House.
Although Addams is one of the most famous women in American history and a major figure in sociology, Starr remains virtually unknown.
On Art, Labor, and Religion is the first anthology of Starr's writings and biography and makes evident her contributions to national and international sociological thought and practice.In addition to co-founding Hull House, Starr actively brought the Arts and Crafts movement in Britain to Chicago through extensive and intensive relations with this group of artisans, theorists, socialists, and proto-sociologists, founding a number of important societies based on their ideals and practices.
Her writings on art, like those of William Morris and John Ruskin, stress the need for a unitary life and meaningful work that is aesthetically expressive and in harmony with nature and the community.
In the first two decades of the twentieth century, she gained national fame as a visible socialist and advocate for women's labor movements whose activism helped secure greater safety for many strikers.
An adherent of Fabian socialism, Starr's writings on labor unrest reflect her turning away from aestheticism toward more active political engagement.
Her firm commitment to feminism, expressed between 1892 and 1920, reveal a pragmatic belief in human improvement, more inclusive democracy, and our capacity to end major social problems.
On converting to Catholicism in 1920, she left Hull House to follow a more private spiritual journey, eventually entering the Benedictine religious order where she remained until her death in 1940.
Her late religious and mystical writings renounce her former activism and the "Protestant ethic" in favor of an otherworldly dedication and an ordered life of prayer and devotion to Christ.Her essays make a distinct contribution to our knowledge about early sociology and the social settlement movement.
This volume restores a significant figure to her rightful place in American social history.
Information
Format: Paperback / softback
Pages: 242 pages
Publisher: Taylor & Francis Ltd
Publication Date: 12/10/2017
Category: Sociology
ISBN: 9781138512702
Other Formats
EPUB from £28.49
PDF from £28.49