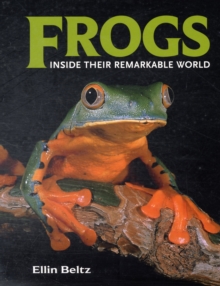 Frogs: Inside Their Remarkable World
Paperback / softback
Description
"A comprehensive guide to all 31 families of frogs.
Spectacular full-color photographs... This book can be enjoyed by readers of all ages." -- Science News Frogs and toads are one of nature's great animal success stories.
They are also the "canary in the mine" for climate change.
Renowned herpetologist Ellin Beltz paints a compelling picture of these small survivors. Some of the features of Frogs are: Unprecedented selection of 125 color photographs of frogs and toads from around the worldDetailed examinations of all 31 frog and toad families, describing biology, behavior, physical characteristics, habitat, voice, feeding and reproductionReview of the environmental threats that are rapidly reducing frog numbers around the world and the ongoing conservation efforts to stem potential lossesHistorical overview of frogs in myth and culture and their place in art and literatureSidebars highlighting unusual and interesting facts. Frogs is a comprehensive and fascinating reference that is extremely useful for herpetologists and naturalists and informative for general readers.
Information
Format: Paperback / softback
Pages: 176 pages, 125 full colour photographs
Publisher: Firefly Books Ltd
Publication Date: 27/08/2009
Category: Amphibians
ISBN: 9781554075027