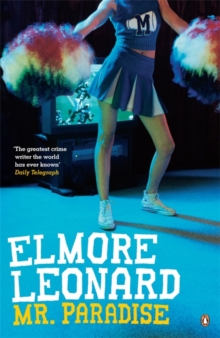 Description
Mr Paradise pays Chloe and Kelly to play cheerleaders.
To dance while he watches reruns of Michigan's finest football games.At least that's the story that hired-help Montez Taylor tells cop Frank Delsa.
Delsa's called in to investigate a double homicide: old man Paradise and a girl dressed as a cheerleader.
He's got a witness - a second cheerleader - but she can't decide whether her name's Chloe or Kelly.
Nobody it seems is playing it straight - least of all the two trigger-happy hit men cruising Detroit's mean streets.
But with a beautiful witness who might or might not want his protection, Delsa's ready to play for time ...Elmore Leonard is in top form with Mr Paradise which is set right back in his home town of Detroit, Motor City, scene of many of his greatest books.
Information
Format: Paperback
Pages: 304 pages
Publisher: Penguin Books Ltd
Publication Date: 02/06/2005
Category: Crime & mystery
ISBN: 9780141009872
Other Formats
Paperback from £7.85
EPUB from £5.99
Free Home Delivery
on all orders
Pick up orders
from local bookshops
Reviews
Showing 1 - 3 of 3 reviews.
Review by Greatrakes
16/06/2015
A classic piece of Leonard crime writing. Spare dialogue, shot through with wit and with a cast of America's Dumbest Criminals.Mr Paradise is the murdered man with the cash, one 'cheerleader' is dead, and one alive but pretending to be the dead one, and everyone has an angle. Frank Delsa is the cop who goes around being cool whilst everyone else falls apart. Leonard sets all the people in motion, with an imperceptible nudge, and they run around an intricate course like clockwork actors, the man is a genius.
Review by yosarian
16/06/2015
Elmore Leonard has been called the 'Dickens of Detroit' because of the way he portrays his characters from that area. On wikipedia there is a quote from Martin Amis claiming that he once told Elmore Leonard his prose "made Raymond Chandler look clumsy". I might not quite agree wholeheartedly with that but Leonard does have an ear for gritty dialogue that Chandler would certainly appreciate.In this story, again set in Detroit, we have Mr Paradiso, a very wealthy retired no-nonsense lawyer, murdered in his own home watching an American football game with two call girls acting as cheerleaders. One of the cheerleaders is shot dead along with Mr Paradiso but is the other one who they claim to be and which witness is telling the truth as to what happened? Frank Delsa is the detective in charge of the investigation trying to get to the truth and also trying to get the girl ... but is she helping him or herself? In this fast paced and tense novel (all of the action happens in less than one week) no-one is quite what they seem to be!As with other Elmore Leonard books I have read the emphasis is less on the 'whodunnit' aspect of the investigation and more with the style with which the detective sorts through the clues and lies. This is not a detective story where we watch the hero piece together the story from obscure and seemingly irrelevant clues but a full blooded charge into a very believable look at a world on the wrong side of the tracks with dismembered gang members, guns for hire and lawyers using the system for their own gains. Leonard skilfully guides us around this seedy underbelly with sharp 'gunfire' prose, sharp action and style so sharp you could shave with it. His advice to young writers has always been to try and cut out the parts you think that readers will skip and in this story he's certainly heeded his own advice. if you have not yet read an Elmore Leonard novel I would certainly recommend this book as a starting point and if you have read Elmore Leonard before ... well I'm sure you won't need a recommendation from me to pick this up.
Review by mlake
16/06/2015
I haven't read much Elmore Leonard, but this was so good I want to read more.