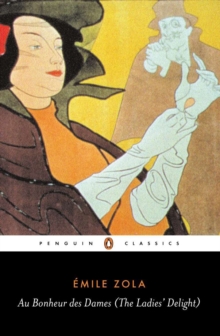 Au Bonheur des Dames (The Ladies' Delight)
Paperback
Description
Now the basis for the major BBC tv adaptation The Paradise, this is a lavish drama and a timeless commentary on consumer capitalism.
The Penguin Classics edition of Emile Zola's The Ladies' Delight is based on an acclaimed, vivid and modern translation by Robin Buss, who has also introduced the novel.The Ladies' Delight is the glittering Paris department store run by Octave Mouret.
He has used charm and drive to become director of this mighty emporium, unscrupulously exploiting his young female staff and seducing his lady customers with luxurious displays of shimmering silks, satins, velvets and lace.
Then Denise Baudu, a naive provincial girl, becomes an assistant at the store - and Mouret discovers that he in turn can also be enchanted.
With its greedy customers, gossiping staff and vibrant sense of theatre, The Ladies' Delight (Au Bonheur des Dames in the original French) is one of the most richly exciting novels in Zola's Les Rougon-Macquart cycle.This edition also contains a bibliography, introduction, chronology and explanatory notes.Emile Zola (1840-1902) was the leading figure in the French school of naturalistic fiction.
His principal work, Les Rougon-Macquart, is a panorama of mid-19th century French life, in a cycle of 20 novels which Zola wrote over a period of 22 years, including Au Bonheur des Dames (1883), The Beast Within (1890), Nana (1880), and The Drinking Den (1877).'A complete page-turner about the consumer society, greed, fashion and instant gratification'India Knight'A fine translation'The Times Literary Supplement
Information
Format: Paperback
Pages: 464 pages
Publisher: Penguin Books Ltd
Publication Date: 25/10/2001
Category: Classic fiction (pre c 1945)
ISBN: 9780140447835
Free Home Delivery
on all orders
Pick up orders
from local bookshops
Reviews
Showing 1 - 2 of 2 reviews.
Review by bakabaka84
16/06/2015
This was my first experience reading Zola and I loved every minute of it. I think what I really liked about this book was that, having worked in retail it was funny to see that not much has changed since the dawn of the department store in the late 1800's. Even back then office politics abound with the gossip as ruthless as ever. The employs constantly try to undermine their boss in hopes of taking his position while constantly complaining about the quality of customers they are getting. In addition, Zola also looks at how the new retail world meant the death-knell for the old trade system of small independent shops of Paris and the despair it brings to their owner. While Zola makes it clear that he is in favor of the new retail world he points out that not everyone would gain from it. Although the cast is filled with well-rounded characters, the real stars of the book are the goods themselves. Zola goes into painstaking detail about the different quality of cloth and silks as well as the numerous garments that were popular at the time. If there is anything lacking in the book I would say it's the love story between Octave Mouret, the owner of Au Bonheur des Dames and Denise Baudu, the leading lady and new arrival to Paris. Its not that its bad, just that I felt it was drawn out too long and really to a back seat to Zola exploring the world of the department store.Overall it was a great read and one I say you defiantly should read if you ever worked in retail as you can laugh along with the employees of Au Bonheur des Dames going through situations you have probably found yourself in.
Review by amydross
16/06/2015
Okay, so the descriptions of the early department stores were terrific. And it was interesting seeing them as triumphant over the "ancien commerce", when now grand old department stores are barely holding on, having been largely displaced by chain stores, plus Target. Plus ca change? The storyline, on the other hand... Denise was just *such* a dud of a character compared to Nana. The whole arc of this perfectly pure, silent, passive, humble, etc. girl who wins the heart of the store owner through her very passivity just really annoyed me. Out of desperation, I developed a reading of her as kind of dominatrix, which made her seem a little livelier, but I had a hard time rooting for her nonetheless.