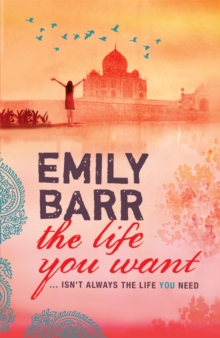 The Life You Want
Paperback
Description
Fans of Rosamund Lupton and Sophie Hannah will adore this novel from the critically acclaimed author of BACKPACK.Ever wished you could just leave it all behind again?Emily Barr's unputdownable novel is about a mother of two with a seemingly perfect life who's cracking up and longing to get away from it all.
But when she finally gets to go away, to India, things are far from what she expects...
She has to go away to come home to what she loves again.
Information
Format: Paperback
Pages: 416 pages
Publisher: Headline Publishing Group
Publication Date: 01/09/2009
ISBN: 9780755335602
Free Home Delivery
on all orders
Pick up orders
from local bookshops
Reviews
Showing 1 - 2 of 2 reviews.
Review by elkiedee
16/06/2015
Tansy Harris, the heroine of Emily Barr's first novel, returns in another travel story. Ten years on, Tansy is married with kids but getting bored, so jumps at a chance to travel to India, to visit a friend. Of course, there are a few surprises in store. I think of Emily Barr as intelligent chicklit - her books are a good, fast read which touches on real issues. This doesn't disappoint. The characters are convincingly portrayed and real enough that I wonder what happens to them next, and wouldn't mind knowing.
Review by Bagpuss
02/03/2016
I have very mixed feelings about this book! For a start, I didn't like the protagonist, Tansy, at all. As a reader I don't think we're meant to like her, but I found it hard to get into this because I just felt that Tansy was so self-absorbed and selfish that I didn't really care one way or other what happened to her. However, I persevered because I have enjoyed Barr's books in the past.<br/><br/>Tansy is a borderline alcoholic. The type of person who pretends she doesn't have a drink problem but clearly does. She can function most of the time but she lives for the time when she can open a bottle of wine. She should be happy – she has a husband who loves her and two children and the family are comfortably off, so she doesn't have any financial worries. But her drinking is spiralling out of control. Her husband, Max, encourages her to travel to India to meet up with a woman she met whilst travelling years ago and to help out in a children's' centre taking care of orphans.<br/><br/>After a short stay in Chennai (formerly Madras), Tansy arrives at the centre in Pondicherry (now known as Puducherry). She is concerned to find that Elly isn't there and that instead of helping out she's been enrolled on a compulsory yoga course (!) but she soon settles into life at the centre, together with three other travellers she has picked up along the way. But all is not as it seems and the peaceful life in India is about to come crashing down around her. Too late she realises she's in trouble and thinks wistfully about the life she left behind. Is it too late for Tansy to escape her fate?<br/><br/>There was too much at the start of this novel about Tansy's life in England which made the novel drag. The story really picked up when she arrived in India and Barr has clearly researched, or knows, India well and one of the things I enjoyed about the novel is her portrayal of the country. I would have liked to have known more about some of the other characters. I saw the 'twist' coming a long way off and was surprised that Tansy didn't! I also felt the ending was rather rushed. I didn't really like Tansy any better by the end of the book! However, overall I did enjoy the story and, having read quite a few of Barr's other books, I feel sure I will certainly read more.<br/><br/>I didn't actually realise this is a sequel to Barr's first novel, Backpack until I read it elsewhere as I read that about 11 years ago and didn't make the connection!