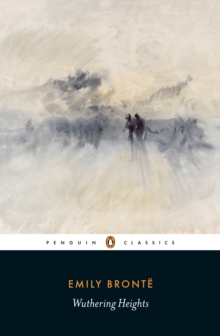 Wuthering Heights
Paperback
Description
Emily Bronte's only novel, a work of tremendous and far-reaching influence, the Penguin Classics edition of Wuthering Heights is the definitive edition of the text, edited with an introduction by Pauline Nestor.Lockwood, the new tenant of Thrushcross Grange, situated on the bleak Yorkshire moors, is forced to seek shelter one night at Wuthering Heights, the home of his landlord.
There he discovers the history of the tempestuous events that took place years before; of the intense relationship between the gypsy foundling Heathcliff and Catherine Earnshaw; and how Catherine, forced to choose between passionate, tortured Heathcliff and gentle, well-bred Edgar Linton, surrendered to the expectations of her class.
As Heathcliff's bitterness and vengeance at his betrayal is visited upon the next generation, their innocent heirs must struggle to escape the legacy of the past.In this edition, a new preface by Lucasta Miller, author of The Bronte Myth, looks at the ways in which the novel has been interpreted, from Charlotte Bronte onwards.
This complements Pauline Nestor's introduction, which discusses changing critical receptions of the novel, as well as Emily Bronte's influences and background.Emily Bronte (1818-48), along with her sisters, Charlotte and Anne, was one of the most significant literary figures of the 19th century.
She wrote just one strikingly innovative novel, Wuthering Heights, but was also a gifted and intense poet.If you enjoyed Wuthering Heights, you may like Charlotte Bronte's Jane Eyre, also available in Penguin Classics.'Wuthering Heights is commonly thought of as "romantic", but try rereading it without being astonished by the comfortableness with which Bronte's characters subject one another to extremes of physical and psychological violence'Jeanette Winterson'As a first novel, there is very little that can compare to it.
Even Shakespeare took over a decade to reach the clifftop extremities of King Lear'Sarah Waters
Information
Format: Paperback
Pages: 416 pages
Publisher: Penguin Books Ltd
Publication Date: 31/12/2002
Category: Classic fiction (pre c 1945)
ISBN: 9780141439556
Other Formats
Hardback from £6.59
Paperback from £2.50
Mixed media product from £40.85
CD-Audio from £11.05
Free Home Delivery
on all orders
Pick up orders
from local bookshops
Reviews
Showing 1 - 5 of 16 reviews.
Previous | Next
Review by mattviews
16/06/2015
Reading Wuthering Heights is like a journey into a dream abound with entangled relationships, bitter vengeance, and how the innocent heirs from feuded families struggle to escape the macabre legacy of the past. The person who unraveled the history behind Wuthering Heights was Lockwood, a new tenant of the Thrushcross Grange who was forced to seek shelter one night at Wuthering Heights, the home of his landlord Heathcliff.Heathcliff was kidnapped and shipped to England, grew up under the roof of the Earnshaws. Old Earnshaw took a liking of the young Heathcliff while his son Hindley persistently and insidiously grumbled long string of tales against him and treated him like a house servant after the old Earnshaw passed away. At Wuthering Heights the young Heathcliff cultivated a consummate bonding with Catherine Earnshaw who later on betrayed him and married Edgar Linton.LoveThe novel's pivot tends to focus on the power of the central relationship between Catherine Earnshaw-Linton and Heathcliff. However dark and vindictive the novel might have turned out, the work's attraction, as a love story is not difficult to extract. Catherine loved Heathcliff because he was more herself than she was. Their souls were made of the same materials. Her soul, her heart, and her conscience reproved and convinced her that it was wrong to marry Linton, though Heathcliff might appear to be an unreclaimed, uncultivated creature, which would degrade her. In her final words to Heathcliff, the embittered Catherine Earnshaw writhed in torment. Here the novel has attained to the fullness the celebration of such transcendent love, which has surpassed the bounds of mundanity and death, despite the fact that their reunion was marked by dejection, regret, and bitterness. To Heathcliff the entire world was such a dreadful conviction of memoranda that he had lost his beloved Catherine Earnshaw, even though her daughter Cathy asserted that nobody would love him nor cry for him when he died. VengeanceHeathcliff's eye-for-an-eye vengeance visited upon the next generation. To revenge on Hindley Earnshaw's being acrimonious to him, Heathcliff determined to make Hindley's son Hareton a brute. He never taught him how to read or write, never rebuked him for any bad habit and never led him a single step toward virtue. When Heathcliff later became master of Wuthering Heights, he reduced Hareton to a mere house servant and deprived him of any wages. Edgar's daughter Cathy was forced to marry Heathcliff's sickly son Linton who braced the brawl of the previous generation by reviving how Cathy's mother had betrayed the man she loved for her father Edgar Linton. Through his son Heathcliff meant to usurp Edgar Linton's property at Thrushcross Grange and confiscated Cathy's fortune. The heirs (Cathy Linton, Hareton Earnshaw, and Linton) strived to escape from the bitter rift of the previous generation. The second half of the novel (volume ii) somewhat signifies such restoration of order and balance in this second generation. Dream/Stream-of-ConsciousnessThe appearance of Catherine Earnshaw's ghost in the early part of the novel proves to be such an appropriate notion to set the tone of Wuthering Height. The house servant only proved the house was haunted at the expense of the new tenant Lockhood, the ghost also challenged the limits of life. Wuthering Heights as a whole conveys a sense of vagueness and ambiguous plausibility. The notion of dream proved to be a significant source of understanding as both Catherine Earnshaw and Heathcliff envisaged their happiness in dreams, and Catherine articulated the dreams' informing power to Ellen Dean, who narrated the story to Lockwood over the span of a night at Heathcliff's abode. The warped sense of time, the geographical remoteness, and social aloofness contribute to a dreamlike, stream-of-conscious setting. Such dreamlike setting offers an uncensored realm, free of logic and boundaries, to the transgression of identity, sexuality, violence, and vengeance. "May you not rest, as long as I am living. You said I killed you - haunt me, then." The book obviates a transcendent love that surpasses grief and death. It is meant to be haunting.
Review by medea
16/06/2015
Me, I'm of the "I love it" camp. The characters are so vibrant and chaotic, and are real enough to evoke hatred and a strong desire to march into the book and give them all lectures/a punch in the face. Bronte's writing conveys exactly the darkness and oppression caused by Heathcliff. One of my favourite "classics".
Review by NicoleHC
16/06/2015
One of my favourite love stories since I was 14. Tho the meanings change each time I read it. Love coming back to it with older eyes and realising what I hadn't realised :)
Review by surreality
16/06/2015
Plot: in the background, a coming-of-age family tale. For the most dysfunctional family imaginable.Characters: Relatively small cast, and everybody gets plenty of attention and development. Even the minor characters are well-layered, and Heathcliff and Catherine are amazingly drawn. Style: 19th century prose, at times a little unpolished, but it fits the setting and the characters. Plus: Heathcliff. And the complete lack of an entirely innocent character. Minus: the frame narration isn't the most interesting. Summary: must read. Complex enough to satisfy on several reads - actually the second or third time around is more interesting than the first.
Review by aannttiiiittnnaa
16/06/2015
Narrated from the viewpoint of a curious outsider, this novel imposes the brooding energy of the moor and it's scant inhabitants upon the reader from the start. With no shirking from displays of the darker side of human passion, this love affair is told in detail, deftly crafted without a word to spare. Unfolding carefully the heart and soul of Cathy and Heathcliff's tangled history, if you let it draw you in, it will become easy to follow. Well worth taking your time to get into the feel of that heavy Yorkshire dialect, as it affords the characters so much reality and depth.