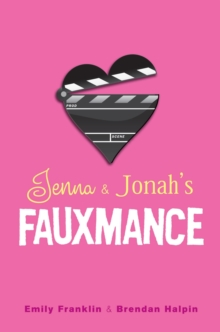 Jenna & Jonah's Fauxmance
Paperback
Description
Teen TV celebrities Jenna and Jonah (real names, Charlie Tracker and Fielding Withers) make more money in a month than most people do in a lifetime.
They can't stand to be in the same room as each other, but to boost the TV ratings their agents make them a "real life" couple.
Then the deception is uncovered by the paparazzi, and Charlie and Fielding have to disappear to weather the media storm.
It's not until they're far off the grid of the Hollywood circuit that they realise there's more to each of them than shiny hair and a winning smile.
Information
Format: Paperback
Pages: 240 pages
Publisher: Bloomsbury Publishing PLC
Publication Date: 07/03/2011
Category: Romance
ISBN: 9781408816301
Free Home Delivery
on all orders
Pick up orders
from local bookshops
Reviews
Showing 1 - 2 of 2 reviews.
Review by BooksforCompany
16/06/2015
When l started reading this book l really enjoyed it even though l definitely was more interested reading Jonah's chapters as l just felt he has a much stronger and complex character. Jenna kind of just annoyed me with her spoilt ways, well it was actually Charlie who acted like that (her real name). At the beginning it didn't annoy me which is probably why l enjoyed the first 100 pages more but after a while it started to drain me and l just wanted to say "Wake up, spoilt brat! Why are you 'snapping' that easily?". I always think if a character makes you feel this way they are written in a way which makes them feel real but l have to say, sadly, for Jenna it just didn't work. I felt she was just so spoilt and that was all that was for her. Jonah annoyed me at points but he also had a funny side and a very confident side to him which was interesting to read about. I think for me this was my first problem, Jenna/Charlie just wasn't explored enough, it just seemed to always be the same responses from her to Jonah. Characters in stories have to each be very unique and very explored and Jenna just wasn't explored enough for me.Moving on, the story is quite predictable but it's one of those that is but is still enjoyable. I think that's what makes predictable books good, the fact interactions between the characters are fun to read about. Another probelm for me though was how some conversations just didn't flow. It was like someone was having a conversation and kept just saying random things. It was kinda of fun and funny to read at some points but in others it's like "What are they talking about now?" or "That felt like a pointless sentence". At sometimes l kind of just got so confused by what they were talking about l didn't even know who was actually talking.Saying all that, l did like this book. At some points it had me laughing out loud, mostly in Jonah's chapters and l found it a nice read with a book which is focused in today's time instead of one with vampires or focused in a time 60 years from now!Overall it's a light read which will be good to read if your feeling distracted or a good relaxing read for the beach or bed time. l would recommend it to anyone who likes fun reads which has the little twist of the romance being filmed .. l think this added to the story a lot.
Review by trillian711
16/06/2015
Teen stars of Family Network's, Jenna and Jonah's How to be a Rock Star, Charlie Tracker (Jenna) and Fielding Withers (Jonah) are also an off-screen couple ... or are they? They're in every magazine and on every celebrity gossip website, holding hands, cosying up in restaurants but it's all one big publicity stunt. Charlie and Fielding's off-screen relationship is what sells the show (and the merchandise). At least it does until the whole thing is revealed and the two of them have to hide out until it all blows over.This is a cute, fun easy-to-read book. The plot may not be overly challenging and is somewhat reminiscent of a bunch of teen movies/TV shows but it is an enjoyable one. It's kind of behind-the-scenes- Hannah Montana (with less annoying characters) and I could very much see it being turned into a movie itself. At most points throughout the book it might be pretty much obvious where the plot is going but for me it was more about when the two characters would realise it.The book alternates narrators between the two main characters which worked really well because the reader gets to know them both and see both sides of the story. It did get a little confusing at times because essentially they both have three persona's - their on-screen character, their off-screen fake one and then their real selves. The confusion was part of the story though, as the two of them were pretty confused about who they were as well.Jenna and Jonah's Fauxmance is a coming-of-age, fame's not all it cracked up to be story with witty dialogue and a fun if not surprising plot.
Also by Emily Franklin