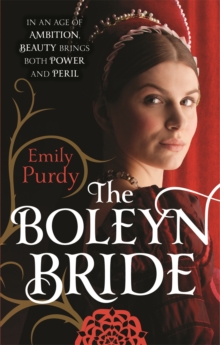 The Boleyn Bride
Paperback
Description
Sixteen, of noble birth and stunningly beautiful, Elizabeth Howard envisions a glorious life for herself as lady-in-waiting to the future queen, Catherine of Aragon.
But when she is forced to marry Thomas Boleyn, a wealthy commoner, Elizabeth is left to stagnate in the countryside while her detested husband pursues his ambitions.
There, she raises golden girl Mary, moody George, and ugly duckling Anne - while staving off boredom with a string of admirers. Until Henry VIII takes the throne ...When Thomas finally brings his highborn wife to London, Elizabeth indulges in lavish diversions and dalliances - and catches the lusty king's eye.
But those who enjoy Henry's fickle favor must also guard against his wrath.
For while her husband's machinations bring Elizabeth and her children to the pinnacle of power, the distance to the scaffold is but a short one - and the Boleyn family's fortune may be turning...Praise for Emily Purdy: '[Purdy] succeeds in rendering Elizabeth both unforgettable and undeniably real.' Historical Novel Society 'It has been some time since I've been so captivated by a Tudor based historical novel. I have to admit to being somewhat burned out by the over saturation of the Tudors ...however, The Boleyn Bride has renewed my interest.
I highly recommend it.' The True Book Addict 'Classic story of a woman scorned, who is after revenge of the most bloody kind.' Closer Magazine 'A rollercoaster tale which gives a new and fascinating perspective on three young women who became hostages to fortune in a perilous and turbulent age.' Lancashire Evening Post 'Nicely written, and full of lust, greed and intrigue, this is a book sure to earn Emily Purdy many new fans.'Bookwormink.co.uk
Information
Format: Paperback
Pages: 272 pages
Publisher: Little, Brown Book Group
Publication Date: 02/10/2014
Category: Historical romance
ISBN: 9780349405957
Free Home Delivery
on all orders
Pick up orders
from local bookshops
Reviews
Showing 1 - 1 of 1 reviews.
Review by tina1969
16/06/2015
Elizabeth Howard is sixteen and is looking forward to life as a lady in waiting. She however is forced into marriage to somebody who she doesn't really like, Thomas Bullen, I mean Boleyn. The rest is history.This book is very mild compared to other books I have read by Emily / Brandy Purdy. Normally her books can be quite fun to read, perhaps not accurate, but definitely a right old Tudor romp. This book however was quite the opposite.The story is told by Elizabeth Howard, mother of the three Boleyns, Mary, George and Anne. The story is just one long narrative with very little speech between characters. This can be tiresome at times as the reader only has the voice of Elizabeth and her observations. I don't really know much about Elizabeth, only who she was. I have come away from the book not much wiser. The story quickly switches to Anne and again Anne takes over the story. Not that I mind reading about Anne but I thought the book was going to be about Elizabeth.Elizabeth came across as not a very nice person. She wasn't a good mother to her three children and was wrapped up in het own sexusl needs. She actually comes across as quite sluttish. However the people around her are not very likeable either, her husbsnd, uncle and mother in law. So maybe she cant be blamed for her actions as perhsps she was only after attention.The book was an ok read, but Anne cones to the forefront again. Not quite a Tudor romp but a run of the mill tale of the Tudor period.