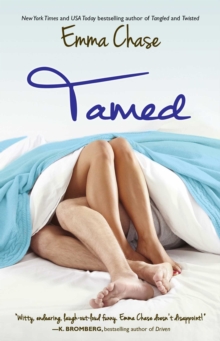 Description
Stop me if you've heard this one before: girl meets player, they fall in love, player changes his ways.
It's a good story. But it's not our story. Ours is a lot more colourful. When I met Dee, I knew right away that she was special.
When she met me, she thought I was anything butspecial-I was exactly like every other guy who'd screwed her over and let her down.
It took some time to convince her otherwise, but it turns out I can make a convincing argument when sex is at stake.
You might know where this story's headed. But the best part isn't where we ended up. It's how we got there.
Information
Format: Paperback
Pages: 272 pages
Publisher: Simon & Schuster
Publication Date: 10/07/2014
ISBN: 9781476763606
Other Formats
EPUB from £5.99
eAudiobook MP3 from £15.11
Free Home Delivery
on all orders
Pick up orders
from local bookshops
Reviews
Showing 1 - 3 of 3 reviews.
Review by ivydtruitt
16/06/2015
TAMED is Matthew and Delores' love story that runs simultaneously to Drew and Kate's from Tangled. Matthew and Delores aka Dee Dee are Drew and Kate's best friends.Dee Dee is a chemist with a penchant for dressing like a stripper just to throw people. Dee grew up in a unique way that has led to her unconventionality. She's brazen and brutally candid. Her loyalty to the few she loves knows no bounds, add her personality and her chemical knowledge to that and you have one beyond scary individual. However, you can't help but like her.Matthew is handsome, charming, witty, and urbane. He comes from a privileged background but wasn't raised with a sense of entitlement. His character makes him the perfect foil and match for the flamboyant Delores.Dee's past has convinced her that HEA isn't doable for her so she's good with a night or two. She's closed off her heart and balks at any mention of long term. Matthew's a player who's lost interest in the game since meeting Dee. He's never met or even imagined a woman like her. Let's be honest, few of us have. How does a recently reformed player convince a woman who has her heart on lockdown and one foot out the door that there is such a thing as forever love and HEA? You'll have to read TAMED to find out. If you loved Tangled you aren't likely to be disappointed with TAMED.Ms. Chase has another winner on her hands with TAMED. I didn't think anything could come close to the humor, fun, and wit of Drew's POV in Tangled but Matthew holds his own easily. Ms. Chase either has a great group of guys she calls on or is really in touch with her inner male because Matthew and Drew ring so true. In all honesty I'm discovering a strong preference for the male POV lately thanks to her mastery. Though third in the series, TAMED can be read as a stand alone but seriously, why would you want to deprive yourself of all the hilarity, hotness, and love that happens concurrently and is relayed so enjoyably by Drew? Trust me, you don't. 4.5 starsReviewed by IvyD for Miss Ivy's Book Nook
Review by lornajarkin
16/06/2015
Not my favorite by Ms Chase, but I did like it. Since I already had a pretty good idea about their characters from the other three books I've read by her, I went in with some expectations and I am not sure if everything went like I was expecting. Matthew and Delores are a cute couple who have similar interests in just sex and no relationship commitments though very early on (like the first time) Matthew pretty much gives up on those. He is the one pushing for the relationship while Dee isn't sure. I wish there was a little more details about why she is the way she is.Matthew skims thru the details just enough to threaten the last guy who actually hit Dee. Of course like any good story there is the necessary drama which Dee pretty much brings on herself. There is even a little insight into Drew and Kate here and there. I think I was hoping for another gut busting humor story like Drew, but this one is a lot more serious. Though Matthew did drop some humor here and there and I did enjoy the book....I feel like I am giving a negative review when in fact I did enjoy the book and give it a solid 5 stars. Dee and Matthew deserve you to read their story and share in the love that they both realize they are capable of giving and receiving!!
Review by Dinajc
23/09/2015
Wow another awesome book by Emma Chase!!! She sure can write. I love her style. Her books are funny, sexy and lovable. I can never put them down. I really fell in love with Matthew and Dee. They were not your usual couple, you have Dee who is so smart, beautiful, sexy and colorful and then Matthew who is telling the story which works great he's sexy, confident and deep down a great guy. I can tell you that this book was really a great edition to The Tangled Series!!!
Also in the The Tangled Series series | View all