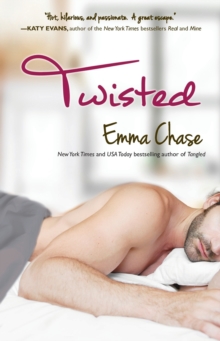 Description
There are two kinds of people in the world. The ones who look first and the ones who leap. I've always been more of a looker. Cautious. A planner. That changed after I met Drew Evans. He was so persistent. So sure of himself-and of me. But not all love stories end happily ever after. Did you think Drew and I were going to ride off into the sunset?
Join the club. Now I have to make a choice; the most important of my life.
Drew already made his-in fact, he tried to decide for the both of us.
But you know that's just not my style. So I came back to Greenville, Ohio, alone. Well, sort of alone... What I've come to realize is that old habits die hard, and sometimes you have to go back to where you began before you can move ahead.
Information
Format: Paperback
Pages: 272 pages
Publisher: Simon & Schuster
Publication Date: 25/03/2014
ISBN: 9781476763620
Other Formats
EPUB from £5.99
eAudiobook MP3 from £15.11
Free Home Delivery
on all orders
Pick up orders
from local bookshops
Reviews
Showing 1 - 4 of 4 reviews.
Review by mclement
16/06/2015
Emma Chase has done it again. Her story of Drew and Kate is a continuation of Tangled but two years later. I do not know how Emma Chase is able to put such a good storyline together with so much humor in the story too. Every chapter had you laughing at a quirky thing that Kate or Drew said. The additional characters: Dee, Billy, Alexandra and Stephen, especially Dee; bring lots of humor into the story. About the storyline...it was easy to guess it once you got to how their relationship takes a nose dive. What Drew did was pretty drastic but I cannot see him doing anything other than what he did. This book is told mostly in Kate's point of view and Drew is actually left out the book for a good little while. It also took on a more serious tone and story but like I said, you still will have the laugh out loud moments. I cannot wait for Tamed and Tied to come out. Really enjoy the story lines with the humor added.
Review by ivydtruitt
16/06/2015
Do Kate and Drew, that charming couple from Tangled, have a happy ending? C'mon, relationships are difficult and you can't spend all your time between the sheets. Surely after coming to know these two you didn't expect rainbows & unicorns as they strode off into the distance? Challenges await, the kind that can make or break them as a couple and individuals. To discover what Kate calls "circumstances that force them to renegotiate their relationship" you'll have to read TWISTED for yourself.Tangled was told from Drew's point of view; the beginning of Drew and Kate. What a bumpy hilarious ride that was. Seriously, if you haven't read Tangled, get thee to a bookstore or computer and get it now before TWISTED.Two years into lusty cohabitant bliss we get TWISTED from Kate's point of view. Just as Tangled gave us an insightful look into Drew TWISTED reveals Kate's psyche. Kate's style is chatty and personal as she talks readers through TWISTED. When it hits the fan Kate runs home to Greenville, OH. As I know Greenville and the surrounding area it gave TWISTED a more personal feel. Kate's story telling, while chatty and intimate, is completely different from Drew's. Kate isn't as colorful or humorous as Drew but that's to be expected, few people are.:) It's obviously a female point of view strongly flavored with memory lane. TWISTED is an apropos title for the latest in Kate and Drew's ongoing story.All those issues and insecurities hidden deep inside create the perfect storm for Kate and Drew when they surface; creating the first serious challenge to their relationship and boy howdy is it a doozy. How much do they trust and love each other? How committed are they to being a "forever through thick and thin" couple? Due to the nature of Drew and Kate's s**t storm there were times I sincerely wanted to pinch them both but because the focus is on Kate, mostly her. We've all been there though; missing the signals and signs prior to the eruption when it all goes to hell in a handbasket. This familiarity makes Kate's story intimately relatable even if the surrounding circumstances are different. What was the exact cause of the tempest? Will Kate and Drew weather the storm and be stronger as individuals and a couple? Do readers hear from Drew at all? This is important because if you're like me you've missed him. You'll have to read TWISTED to answer these questions and find out other juicy goings on in Kate and Drew's inner circle of friends and family. Just a heads up to those in the know, DeeDee is as scary as ever, possibly even more so in all honesty.Reviewed by IvyD for Miss Ivy's Book Nook
Review by Books007
27/08/2015
Books two of the Tangled series gives us Kate's POV as opposed to Drew's in book one. It's a continuation of their story from book one. They have been living, working and together-together for two years now. And let the miscommunications begin! Nothing special here like in book one for me. Book took more of a serious tone (guessing due to the change of POVs) than book one. Not so much romantic humor anymore, more of an emotional one. It was not nearly as entertaining as book one so consider yourself warned.I received this book in exchange for an honest review.
Review by lornajarkin
16/06/2015
I loved Tangled. Reading what Drew was thinking was like eavesdropping on a locker room, I think. I wasn't as excited to read what Kate was thinking because I really didn't think she would make me laugh out loud like Drew did....I was so wrong! Kate's story telling is just as funny as Drew's and she really shed some light onto things that a reader needed to realize. I can't say enough great things about this series....go buy it! Read it! Then read it again! It truly is great fiction!
Also in the The Tangled Series series | View all