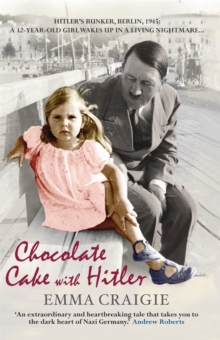 Chocolate Cake with Hitler : A Nazi Childhood
Paperback
Description
Helga's childhood as the eldest of five children in Germany's First Family has been a gilded one, accompanying her parents to parties and rallies, moving between the city and their idyllic country estate.
But the war has changed everything. And now, as defeat closes in on the Germans, Helga must move into a bunker in the heart of Berlin with her family and key members of the crumbling Nazi leadership - to be with their beloved Hitler.
There is chocolate cake for tea every day with Uncle Leader, but Helga cannot help noticing that all is not well among the grown-ups.
As each day passes, her underground world becomes increasingly tense and strange.
There are tears and shouting behind slammed doors, and when even the soldiers who have been guarding them take their leave, Helga is faced with a terrible truth.
Perhaps her perfect childhood has not been all that it seemed...
Information
Format: Paperback
Pages: 192 pages
Publisher: Short Books Ltd
Publication Date: 07/01/2010
Category: General
ISBN: 9781906021894
Free Home Delivery
on all orders
Pick up orders
from local bookshops
Reviews
Showing 1 - 2 of 2 reviews.
Review by rebecca191
16/06/2015
During the final days of World War II in April 1945, twelve-year-old Helga Goebbels, daughter of Nazi Propaganda Minister Joseph Goebbels, is brought to Berlin, along with her younger brother and four younger sisters, to stay with her parents in Hitler's bunker in Berlin. Having spent much of her childhood sheltered from the horrors of the war, Helga can now see that something is terribly wrong. She is old enough to know that despite attempts to maintain a sense of normalcy for the children, the adults are hiding something terrible from her - the war will soon be over, and Germany has lost. During the last ten days of her life, Helga looks back on the happier days of her childhood and the memories of good times with family and friends as day by day, things become worse in the bunker. Every day, the adults grow more tense, and more and more people leave in hopes of escaping from the advancing Russian army. Every day, more and more, Helga is faced with the terrible truths that the adults have tried so hard to hide from the children. What Helga doesn't know, however, is that those she fears - the conquering Russian army - will not be the ones to take her life. Instead, she will lose her life at the hands of the person who should have protected her - her mother. Chocolate Cake with Hitler is a haunting look at the final days of the life of Helga Goebbels, oldest child of one of the most notorious Nazis, Joseph Goebbels. Helga and her five younger siblings were murdered by their mother shortly before the Russians captured Berlin in early May of 1945. The author conveys the tragedy of a fanaticism so great and evil that a parent would kill her children before allowing them to live in a world in which the Nazis had lost. This is a short but powerful novel that shows all too clearly that in war, all children are victims.
Review by L1nda
16/06/2015
A haunting account of the last days in Hitlers bunker told through the innocent eyes of a child. The voice of Helga is quite moving as she struggles to understand the grown ups around her.