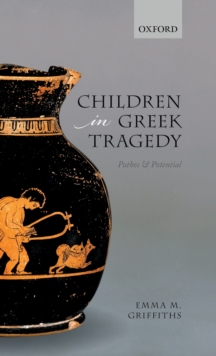 Children in Greek Tragedy : Pathos and Potential
Hardback
Description
Astyanax is thrown from the walls of Troy; Medeia kills her children as an act of vengeance against her husband; Aias reflects with sorrow on his son's inheritance, yet kills himself and leaves Eurysakes vulnerable to his enemies.
The pathos created by threats to children is a notable feature of Greek tragedy, but does not in itself explain the broad range of situations in which the ancient playwrights chose to employ such threats.
Rather than casting children in tragedy as simple figures of pathos, this volume proposes a new paradigm to understand their roles, emphasizing their dangerous potential as the future adults of myth.
Although they are largely silent, passive figures on stage, children exert a dramatic force that transcends their limited physical presence, and are in fact theatrically complex creations who pose a danger to the major characters.
Their multiple projected lives create dramatic palimpsests which areparadoxically more significant than their immediate emotional effects: children are never killed because of their immediate weakness, but because of their potential strength. This re-evaluation of the significance of child characters in Greek tragedy draws on a fresh examination of the evidence for child actors in fifth-century Athens, which concludes that the physical presence of children was a significant factor in their presentation.
However, child roles can only be fully appreciated as theatrical phenomena, utilizing the inherent ambiguities of drama: as such, case studies of particular plays and playwrights are underpinned by detailed analysis of stagingconsiderations, opening up new avenues for interpretation and challenging traditional models of children in tragedy.
Information
Format: Hardback
Pages: 336 pages
Publisher: Oxford University Press
Publication Date: 06/02/2020
Category: Theatre studies
ISBN: 9780198826071