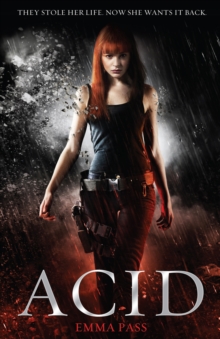 Description
2113. In Jenna Strong's world, ACID - the most brutal, controlling police force in history - rule supreme.
No throwaway comment or muttered dissent goes unnoticed - or unpunished. And it was ACID agents who locked Jenna away for life, for a bloody crime she struggles to remember.
The only female inmate in a violent high-security prison, Jenna has learned to survive by any means necessary. And when a mysterious rebel group breaks her out, she must use her strength, speed and skill to stay one step ahead of ACID - and to uncover the truth about what really happened on that dark night two years ago.
Information
Format: Paperback
Pages: 448 pages
Publisher: Random House Children's Publishers UK
Publication Date: 25/04/2013
Category: Science fiction
ISBN: 9780552566148
Other Formats
EPUB from £2.99
eAudiobook MP3 from £8.80
Free Home Delivery
on all orders
Pick up orders
from local bookshops
Reviews
Showing 1 - 2 of 2 reviews.
Review by wyvernfriend
16/06/2015
This one drew me in and kept me reading but there were moments that didn't quite gel for me.The story starts in a prison where we meet Jenna Strong, shaven head, "fuck off" tattoo and as the sole girl in a prison run by ACID (Agency for Chrime Investigation and Defence) who run the Independent Republic of Britain. You're thrown straight into things at the start where she's smuggled into prison and her life is about to change, along with her face.Surgery is used quite casually in this story, the romance was shallow and not very memorable, it almost felt tacked in, he felt more like a friend than a true romance. The history of how Britain ended up under the thumb of ACID isn't clear and would make an interesting read.Having said all this I was swept up by the story and it wasn't until I thought back for this review that I realised that there were niggles. It's an interesting story and I want to read more by this author.
Review by sunset_x_cocktail
16/06/2015
I came across this book whilst browsing on Netgalley, initially the cover caught my eye immediately, the plot sounded a little blah, so I figured what the hell, and put in a request, thinking I most likely wouldn't be approved anyway. A week or so later I saw Acid in the YA section of a local bookshop on a buy one get one half price deal, so I picked it up and bought it. And wouldn't you know....I got home to an email from Netgalley saying we have approved your request to view this title. Oh well. <br/><br/>Either way, it turned out to be one of the most awesome dystopians I've read in ages. I have a love/hate relationship with dystopian fiction....I either love it or hate it and half of the ones I've read I end up giving up on. Acid was a page grabber right from the start. Faced paged with action and a gripping main character from the get go the story was off to a fantastic start.<br/><br/>While it irked me to no end that a female bad ass was in an all male prison, I was able to get past it and not let it bother me too much. I see no reason why it would have detracted from the character or plot to put her in a female population prison. It wouldn't have made Jenna any less strong or bad ass to learn to take care of herself in her situation. <br/><br/>The story took off with a bang, and kept going with lots of questions and very little answers to what was happening. There were so many twists and turns it was impossible to figure out what was going to happen. Jenna was a pretty fantastic main character, thrown in prison for the supposed murder of her parents, by ACID, a brutal police force controlling the UK of the future. After being mysteriously freed and dropped into another new life, nothing seemed to be smooth sailing for her. On the run things go from bad to worse and it doesn't help that she ends up being caught up with the son of someone who died helping her escape and has to add trying to keep him from finding out.<br/><br/>Just when things are looking up for them...of course things go hideously wrong and Jenna is exposed. And back on the roller coaster of trying to escape from ACID. She's smart at least and knows how to take care of herself and doesn't act like a simpering idiot when it comes to the boy she gets entangled with. No insta-love, no obvious romance, just hints at a possibility. Which I did actually like, a romantic subplot wouldn't have it in with the adrenaline pumping pace of the novel.<br/><br/>The conclusion was surprising and one I didn't see coming, but it did have an actual ending. One storyline wasn't tied up nearly as much as it should have been, but I suppose that leaves options for a sequel some time in the future.