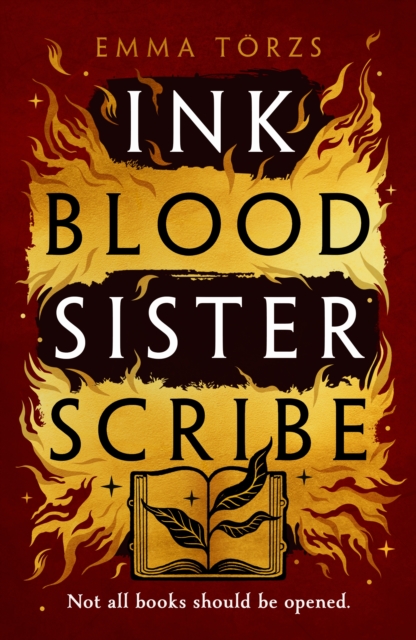 Ink Blood Sister Scribe : the Sunday Times bestselling edge-of-your-seat fantasy thriller
Hardback
Description
Not all books should be opened. In this thrilling fantasy debut, meet the family tasked with guarding a trove of magical but deadly books, and the shadowy organisation that will do anything to get them back. * The instant Sunday Times bestseller ** Good Morning America's June book club pick *'A bold, new novel from an extraordinary new voice.' Marlon James'Simply a delight from start to finish.' New York Times'A spectacularly spellbinding debut ... sumptuously bleeds magic from every page.' The Fantasy Hive'A magnificent debut.' The Bookseller'A fantastic magical adventure, not to be missed.' Kirkus Starred Review'A delight from start to finish.
Part caper, part love letter to books, with a slice of gothic creepiness, it was just the read I needed.' Chloe Benjamin____________Joanna Kalotay lives alone in the woods of Vermont, the sole protector of a collection of rare books; books that will allow someone to walk through walls or turn water into wine.
Books of magic. Her estranged older sister Esther moves between countries and jobs, constantly changing, never staying anywhere longer than a year, desperate to avoid the deadly magic that killed her mother.
Currently working on a research base in Antarctica, she has found love and perhaps a sort of happiness. But when she finds spots of blood on the mirrors in the research base, she knows someone is coming for her, and that Joanna and her collection are in danger. If they are to survive, she and Joanna must unravel the secrets their parents kept hidden from them - secrets that span centuries and continents, and could cost them their lives ... ____________Readers can't get enough of Ink Blood Sister Scribe . . . ***** 'THIS BOOK DESTROYED ME AND MADE ME LOSE FEELING IN MY HANDS WITH HOW ANXIOUS IT MADE ME FIVE OUT OF FIVE STARS BEST 2023 RELEASE BY A THOUSAND MILES'***** 'Amazing!!
Couldn't put it down.'***** 'This has be one of the most enjoyable fantasies I've read in a long time.'***** 'Dark and gripping, magic books written in blood, a shedload of mystery and intrigue, I loved it!'***** 'Absolutely brilliant!'____________'No boxes go unticked in this fabulous page-turner, a searing debut about two sisters with very different powers.' Daily Mail'This debut novel is an absolute delight, weaving a convincing occult underground into real-world settings.' Guardian'Downright irresistible' Washington Post'Spellbinding...
This is a must-read.' Publishers Weekly 'A twisty and thrilling fantasy.' Kelly Link, Get in Trouble'An adventure, a puzzle, a twisty thriller, and a tender romance.' Alix E Harrow, The Once And Future Witches'Chilling and charming ...
Törz's debut is a love letter to stories everywhere.' Roshani Chokshi, The Last Tale of the Flower Bride'A magical book, brimming with all the elements that make a story sing ...
A gorgeously satisfying read.' Lesley Nneka Arimah, What It Means When a Man Falls from the Sky
Information
Format:Hardback
Pages:416 pages
Publisher:Cornerstone
Publication Date:06/07/2023
Category:
ISBN:9781529136357
Other Formats
EPUB from £5.99
eAudiobook MP3 from £11.20
Information
Format:Hardback
Pages:416 pages
Publisher:Cornerstone
Publication Date:06/07/2023
Category:
ISBN:9781529136357