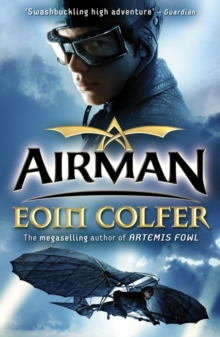 Description
One dark night on the island of Great Saltee, fourteen-year-old Conor is framed for a terrible crime he didn't commit.
Thrown into prison by the dastardly Hugo Bonvilain, Conor is trapped in a seaswept dungeon and branded a traitor.
He must escape and clear his name; he wants his old life back - his family, his friends . . . and his princess.Conor knows there is only one way out.
It's an impossible task, which has never been done before.
But Conor is determined to do it. He'll have to fly.Swashbuckling new fiction from the amazing Eoin Colfer, ideal for readers aged 11+.
Information
Format: Paperback
Pages: 432 pages
Publisher: Penguin Books Ltd
Publication Date: 01/01/2009
Category: Adventure
ISBN: 9780141322216
Free Home Delivery
on all orders
Pick up orders
from local bookshops
Reviews
Showing 1 - 3 of 3 reviews.
Review by brokenangelkisses
16/06/2015
Eoin Colfer is best known for his Artemis Fowl series, which I have never read but know is very popular and successful. This is yet another Carnegie Medal nominee, which is how it sneaked onto my ever-expanding reading list, and is apparently already very popular: I had to try three different counties' library systems in order to track down a copy that wasn't on loan or reserved! The quotation on the front cover promises 'swashbuckling high adventure', which actually made me wince. Did this involve pirates? It didn't sound like my preferred reading material so I approached it with a slight unease. Could this 'megaselling author' have any appeal for me?The basic plot sounded potentially promising: a young boy is framed for a terrible, treasonous crime he didn't commit and thrown into a dreadful prison – 'a seaswept dungeon', apparently. In order to escape, he will have to complete an impossible task, albeit one he has always yearned after: he must learn to fly. My concerns lay in the melodramatic tone, which could easily grate on me after a while, and the fairytale aspects. Part of what our young hero yearns for is to be reunited with his princess – hardly a realistic desire for most youth today. However, this is very much a personal view and I suspect that the dungeons and princesses will appeal to a broad section of the young people this story was written for.The book's prologue sets up Conor Broekhart as a historical figure, referring to a 'lengend…littered with fantastical stories' and outlining the (fictional) history of the (real) Saltee Islands. His heroism is confirmed by the tale of rescue in the first chapter, prefaced by an omniscient narrator who reflects that hindsight did not really prove Conor exceptional as a child apart from in this incident. The quasi-historical tone was slightly irritating to me personally: if this character is so great, I want to see his qualities unfold rather than be told about them. This tone does not intrude overtly into the rest of the novel, but characters are frequently introduced in a way that tells you how to feel about them, rather than letting the reader feel their way. Character is also hinted at through surnames: Conor Broekhart becomes broken hearted; Sir Hugo Bonvilain is good at being a villain. This doesn't detract from the overall quality of the story telling, and is obviously intended to create a heroic, epic feel to the story. For me, even setting a story about princesses, knights and quests in the late 1800s did not quite justify such fairytale trappings, but perhaps I am simply too old now for such indulgences!Colfer does include a lot of science in his history of a boy's efforts to fly, but the resulting tale appears quite fantastical due to the characters. Bonvilain is a thoroughly nasty piece of work; the lead prison guards are repeatedly portrayed as ugly, evil gremlins: they are scarcely human in their coldness. Conversely, Conor is almost angelic and leads a charmed life that is blamelessly destroyed by these thugs. His attempts to restore himself to his rightful place are characterised by genius and bravery that few people are able to join together so purposefully. Although the characters are so one-sided, I still enjoyed reading about Conor's exploits and seeing how he was able to use his skills to gradually control what happened to him.The other characters are largely true to life and are sometimes used to create nice comic touches. The young princess Isabella's repeated, petulant threats to hang young Conor ring true to life, and a dangerously violent man's concern about the appearance of his hair seems equally genuine. The humorous touches help to make this an easy read, even when the young hero is in perilous circumstances.The reader usually follows events from Conor's point of view, but sometimes Colfer shows us how Bonvilain is plotting or how Conor's family are coping without him. This often helps to create a lot of tension and suspense as we wonder how Conor will respond to developments that he doesn't anticipate. Sometimes it makes Conor's successes seem slightly surreal: how can a seventeen year old boy win in a fight against several armed thugs? Of course, he is our hero, so in that sense the narrative arc is fairly predictable and should allow readers to suspend some disbelief.The final chapter is really an epilogue and seemed too short to be a genuine conclusion to the story. A sequel is possible from the ending, but not necessary as Colfer quickly summarises the characters' fates. It all seems rather quick in comparison to the well-paced story that has preceded it, but I think this is often a problem with epilogues: providing a brief glance into how life is working a few days or weeks after the events in the main story have finished is, of necessity, brief in an attempt to avoid boring the reader.Overall, this really is quite a 'swashbuckling adventure' (although there were no pirates or parrots involved) but it successfully kept my attention, while never demanding it. The narrative arc is predictable, but the story is easy to read, sometimes mildly humorous, and generally interesting. I would certainly recommend this to those who like fantastical tales of adventure with a slight historical bent.
Review by dvincent
16/06/2015
Brilliant book!I love Eoin Colfer books! If your searching for a book that has action, speed, fluency, a complex plot and, is funny... This, is the book for you.
Review by SonicQuack
16/06/2015
There's a strong feeling of familiarity in Airman; the plot following a boy on the run who must learn who he is and whom he can be is a fantasy staple. Colfer's easy going narrative style creates a feel-good vibe, even though the circumstances remain fairly dire throughout. The characters are well defined, each aide to the 'Airman' memorable and serving a purpose to the plot. Airman's arc allows for further adventures in the alternative history created and although it is not particularly original in content, it remains a good read.