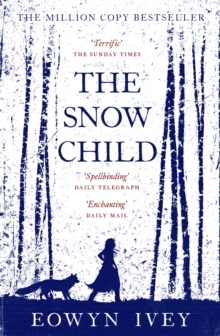 The Snow Child : The Richard and Judy Bestseller
Paperback
Description
A bewitching tale of heartbreak and hope set in 1920s Alaska, Eowyn Ivey's THE SNOW CHILD was a top ten bestseller in hardback and paperback, and went on to be a Finalist for the Pulitzer Prize.
Alaska, the 1920s. Jack and Mabel have staked everything on a fresh start in a remote homestead, but the wilderness is a stark place, and Mabel is haunted by the baby she lost many years before.
When a little girl appears mysteriously on their land, each is filled with wonder, but also foreboding: is she what she seems, and can they find room in their hearts for her?Written with the clarity and vividness of the Russian fairy tale from which it takes its inspiration, The Snow Child is an instant classic.
Information
Format: Paperback
Pages: 448 pages
Publisher: Headline Publishing Group
Publication Date: 01/08/2012
ISBN: 9780755380534
Free Home Delivery
on all orders
Pick up orders
from local bookshops
Reviews
Showing 1 - 5 of 12 reviews.
Previous | Next
Review by MisterBill777
16/06/2015
Jack and Mabel live out in the deep woods of Alaska. Times are exceedingly tough for this pioneering, childless couple. During a rare moment of levity, they build a girl, a Snow Child, out of snow in their yard. In the morning, their creation is demolished, but they begin to see glimpses of a real, live, young girl running through the woods. From there, this adult fairy tale gets really interesting, leaving the reader guessing about the couple's sanity. I enjoyed this read immensely and had fun picturing the snow child as Saoirse Ronan, the main character from the movie "Hannah".
Review by Carolinejyoung
16/06/2015
A lovely book with a very original story.
Review by Luli81
16/06/2015
Once upon a time there was a childless couple who decided to start a new life in the faraway Alaska, where the wild land was always covered in white and pure snow. On a playful evening, they decided to make a snow child and put their willing hearts in it, shaping it as a girl. And the fairies of the magic mountains decided they were worthy of getting what they most coveted: a daughter of flesh and bone. So when they woke up the following day, they found the snow maiden gone and their luck changed when a pale, blond-almost-white blue eyed and silent little girl appeared at their barn. A miracle? Only if you believe in magic.Once upon a time there was a childless couple who lived haunted by the baby they lost many years ago, so they decided to leave everything behind and start afresh in the remotest of lands, where they wouldn't hear the laughter of children playing in the streets or receive news of another newborn. But they hadn't anticipated the harsh conditions of the wilderness, the endless winters, how the ruthless cold, which tore at their skins, could also shatter what was left of their broken hearts. Until one day, in an act of utter despair, husband and wife buried their hands together in the snow and built a snow child, and when they were about to surrender to the brutality of the mountains, a little savage girl appeared out of nowhere and entered their lives for the better or for the worse. A tragedy? Only if you don't have imagination.Two possible stories. Choose the one that most suits you.Fanciful or feral. Chasing ethereal fairies or taming a wild child.I see what the writer was trying to do with this novel and I appreciate it, in essence. In a way, you have a family saga in an exotic setting (Alaska in the 1920s?), but you also have fantasy, mystery and tradition in the form of a fable, easy to engulf you and to keep you hungry enough to swallow chapter after chapter eager to find out which is the right answer: a fairy tale? or a realistic drama with touches of a Gothic mystery?Disturbingly beautiful images come to my mind: a delicate girl surrounded by white snow while droplets of dense and intense red blood are dripping from her prey, recently hunted. Frailty and fierceness. I value this shocking contrast which is deliberately present throughout the book along with the way each character has a voice of its own, which allows the reader to see the different sides of the story and therefore, to reach his own conclusions.My own conclusion is precisely the reason why I can't give this novel more than 3 stars. Because what will probably stay with me about this book is its aesthetics instead of its message which was, for me, disappointingly conventional and mundane.Still, this story has given me the chance to reflect on how life can often be more fantastic and terrible than the stories we believed as children, and that perhaps there is no harm in finding magic among the trees. And only for that, The Snow Child deserves all my respect.
Review by nicx27
16/06/2015
I have to hold my hands up and say that if this book hadn't been chosen as a book group read I wouldn't have read it because it's not really my thing. Having said that, I did enjoy it more than I expected.It's the story of Mabel and Jack, a childless couple in 1920 who move to Alaska to escape their life 'back east' where the memory of the child they lost was even more prevalent. They start to become aware of a young girl who runs around the forest in the snow, always one step ahead. Eventually the girl comes to them and they treat her as a daughter, but she is always a free spirit and the couple start to believe she could be a snow child, such as the one in Mabel's book of fairy tales.Alaska is well-portrayed in the book as a bleak and hard place, but one that is ultimately rewarding. There is also a hint of magic about the story and maybe this is where I struggled with it a little as fantasy isn't a favourite genre for me. I think this is a well-written book and an achievement as a first novel. I'd like to have given it 3.5 stars as it's better than ok, but not quite a 4 star read for me.
Review by hemlokgang
16/06/2015
Imagine the cold and isolation of an Alaskan winter. Add to that a strong dose of loss. Depressed yet? don't be, because out of the morass of darkness comes a lovely story about choosing to survive, choosing to suspend logic, about choosing to believe that there are mysteries in life which defy explanation. Fairy tale or reality? It doesn't matter to Mabel, Jack, Garrett, Esther and George. It certainly doesn't matter to Faina, the beloved and lovely snow child. This is a delightful and poignant story.