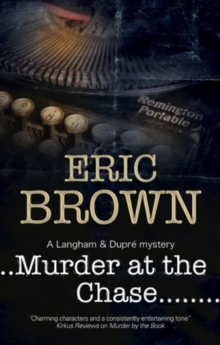 Murder at the Chase: A Locked Room Mystery Set in 1950s England
Hardback
Description
Crime writer sleuth Donald Langham is faced with the classic locked-room conundrum in this engaging historical mystery July, 1955.
Donald Langham has interrupted his romantic break in rural Suffolk with the delectable Maria Dupre to assist a fellow writer.
Alastair Endicott has requested Langham's help in discovering what's happened to his father, Edward, who seems to have disappeared without trace from inside his locked study.
Before he vanished, the elder Endicott had been researching a book on the notorious Satanist Vivian Stafford.
Could the proposed biography have something to do with his disappearance?
Does local resident Stafford really possess supernatural powers, as some believe?
As Langham and Dupre question those around them, it becomes clear that there have been strange goings-on in the sleepy village of Humble Barton.
But is the village really haunted - or does someone merely want it to look that way?
With a further shocking discovery, the case takes a disturbing new twist.
Information
Format: Hardback
Pages: 224 pages, black & white illustrations
Publisher: Severn House Publishers Ltd
Publication Date: 30/07/2014
Category: Historical mysteries
ISBN: 9780727884251
Other Formats
Hardback from £17.99
EPUB from £6.47
Free Home Delivery
on all orders
Pick up orders
from local bookshops
Reviews
Showing 1 - 2 of 2 reviews.
Review by iansales
16/06/2015
This is the second of Brown's 1950s-set murder mysteries featuring thriller writer Donald Langham and his fiancée literary agent Maria Dupré. In this book, they're invited to unravel a locked-room disappearance of another mystery writer, and it turns out it's all to do with a satanist who may or may not have been born over one hundred years earlier. Brown evokes his period well, and his two protagonists are eminently likeable. He even manages a nicely liberal view of humanity that wasn't common in 1955 – two of the secondary characters are gay, and despite it being illegal at the time, pretty much everyone seems surprisingly tolerant when confronted with it. The locked-room puzzle is disposed of disappointingly quickly, but then there's a murder and what looks like a suicide… And it all gets wrapped a little quickly and tidily for comfort. I suspect these are not written to be cosy mysteries, but they're beginning to resemble them. They need to be a bit edgier – Brown is capable of it, he handles his period with aplomb and his characters with assuredness. But the plot is all a bit rushed, and the ending is far too tidy.
Review by BookDivasReads
27/08/2015
Donald Langham, mystery-thriller writer, and Maria Dupré, literary agent, are recuperating from the emotional trauma and physical wounds from their last encounter with a blackmailer (Murder by the Book). They are also in an established romantic relationship and looking forward to spending some time together in the country away from the hustle and bustle of the city. Unfortunately, their weekend in the country quickly becomes a hunt for a missing person, an investigation into a purported centenarian occultist, and more. All the while Donald is looking for the perfect opportunity to propose to Maria as Maria obsesses over whether or not he's actually interested in a permanent relationship. Will murder and mayhem keep these two off-balance? Can they ascertain the truth about the Satanist and the village's hauntings? I found Murder at the Chase to be a fast-paced and enjoyable read. I did have a few issues with the male Vivian character as I usually enjoy reading about characters that share my first name, but sharing it with a guy?! (Okay, it wasn't that big a deal but it was a little strange at first to read about Vivian the guy.) Donald and Maria are in an established relationship, so there isn't as much about the romance as there is intrigue in the storyline. Their weekend in the countryside is interrupted by a request to investigate a missing person with the classic locked-room scenario. As their attention turns toward the investigation of the missing person, they are introduced to a host of characters: an aging ex-Hollywood movie star with a secret past, an eccentric and lascivious artist, a lovable and young bumbling country vicar, the shy son of the missing person with a secret, the purported centenarian Satanist, and a crafty private investigator. This missing person case becomes a murder investigation when the Satanist's body is found with his head bashed in. The only problem I had with this book was the expectation of a locked room murder because there isn't an actual murder victim in a locked room. Murder at the Chase does provide murder, mystery, mayhem, and a hint of the macabre with the occult storyline. If you enjoy old-fashioned whodunits, then you'll definitely want to read Murder at the Chase. (No, I won't tell you if Donald pops the question . . . you'll have to read the book to find out for yourself!)
Also in the A Langham and Dupre Mystery series | View all