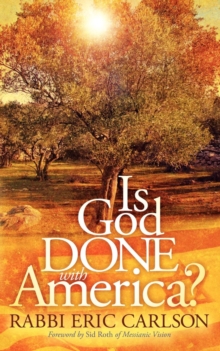 Is God Done With America?
Paperback / softback
Description
America, drifting away from God and in a grave moral crisis, stands at a major spiritual crossroads? The truth of how this nation was founded and what its founders believed is being suppressed.
Is America a Christian nation? Were America's founders Christians? Does America's have a prophetic destiny? If so, will America fulfill that destiny? These questions and more are answered by Rabbi Eric Carlson in "Is God Done with America?". Based upon the "One New Man" of Ephesians 2:15, America's spiritual DNA was established through a prayer spoken twice a day at the birthplace and spiritual root of America, Jamestown Settlement, Virginia by the founding colonists. A portion of this prayer, exactly as it was written and quoted from the book "Lawes Divine, Morall and Martiall for the Colony of Virginea", printed in the year 1612, was spoken twice daily. "A Praier duly said Morning and Evening upon the Court of Guard, either by the Captaine of the watch himselfe, or by some one of his principall officers". And call in the Jewes together with the fulnesse of the gentiles, that thy name may be glorious in al the world, the dayes of iniquity may come to an end, and we with all thine elect people may come to see thy face in glorie, and be filled with the light thereof for evermore. This prayer not only reveals a portion of Americas prophetic destiny, it is key to the restoration and infusion of life into the dead and dying church in America today. "Is God Done with America?" contains critical information regarding Jewish revival, the restoration of signs and wonders to the body of Messiah, and the reconciliation of Messianic Jews and Christians into one unified body! Time is running short, is God done with America?
Information
Format:Paperback / softback
Pages:152 pages
Publisher:Morgan James Publishing llc
Publication Date:19/05/2011
Category:
ISBN:9781600378768
Also in the Morgan James Faith series | View all