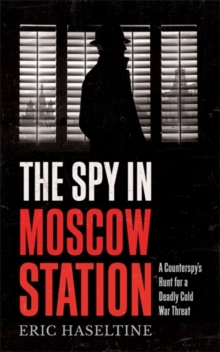 The Spy in Moscow Station : A Counterspy's Hunt for a Deadly Cold War Threat
Paperback / softback
Description
'All the power and intrigue of a cinematic thriller ... immersive, dramatic, and historically edifying' KirkusMoscow in the late 1970s: one by one, CIA assets are disappearing.
The perils of American arrogance, mixed withbureaucratic infighting, had left the country unspeakably vulnerable toultra-sophisticated Russian electronic surveillance..
The Spy in Moscow Station tells of a time when-much like today-Russian spycraft wasproving itself far ahead of the best technology the U.S. had to offer. This is the true story of unorthodox, underdog intelligence officers whofought an uphill battle against their government to prove that the KGB hadpulled off the most devastating and breathtakingly thorough penetration of U.S. national security in history. Incorporating declassified internal CIA memos anddiplomatic cables, this suspenseful narrative reads like a thriller-but reallives were at stake, and every twist is true as the US and USSR attempt towrongfoot each other in eavesdropping technology and tradecraft.
The book alsocarries a chilling warning for the present: like the State and CIA officers whowere certain their "sweeps" could detect any threat in Moscow, wedon't know what we don't know.
Information
Format: Paperback / softback
Pages: 320 pages
Publisher: Icon Books Ltd
Publication Date: 09/05/2019
Category: True war & combat stories
ISBN: 9781785784927
Other Formats
Paperback / softback from £8.05