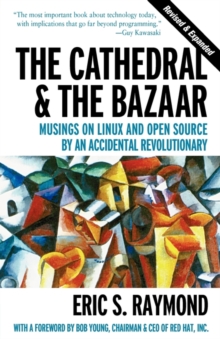 The Cathedral and the Bazaar : Musings on Linux and Open Source by an Accidental Revolutionary
Paperback
Description
Open source provides the competitive advantage in the Internet Age. According to the August Forrester Report, 56 percent of IT managers interviewed at Global 2,500 companies are already using some type of open source software in their infrastructure and another 6 percent will install it in the next two years.
This revolutionary model for collaborative software development is being embraced and studied by many of the biggest players in the high-tech industry, from Sun Microsystems to IBM to Intel.
The Cathedral & the Bazaar is a must for anyone who cares about the future of the computer industry or the dynamics of the information economy.
Already, billions of dollars have been made and lost based on the ideas in this book.
Its conclusions will be studied, debated, and implemented for years to come.
According to Bob Young, "This is Eric Raymond's great contribution to the success of the open source revolution, to the adoption of Linux-based operating systems, and to the success of open source users and the companies that supply them." The interest in open source software development has grown enormously in the past year. This revised and expanded paperback edition includes new material on open source developments in 1999 and 2000.
Raymond's clear and effective writing style accurately describing the benefits of open source software has been key to its success.
With major vendors creating acceptance for open source within companies, independent vendors will become the open source story in 2001.
Information
Format: Paperback
Pages: 258 pages, black & white illustrations
Publisher: O'Reilly Media, Inc, USA
Publication Date: 11/02/2001
Category: Linux
ISBN: 9780596001087
Other Formats
PDF from £9.59
EPUB from £9.12
Free Home Delivery
on all orders
Pick up orders
from local bookshops
Reviews
Showing 1 - 5 of 5 reviews.
Review by aevaughn
16/06/2015
It's a very good book, and I would recommend it as an introduction to the "hacker"/open-source culture. It also cites a variety of sources for those interested in learning more.
Review by jorgearanda
16/06/2015
Raymond's account of the growth of open source in the 1990's has some historical value, but beyond that I don't understand the appeal of this book. Raymond butchers the science, offers half-baked social theories, and aggrandizes the open source movement and himself. The major point of his main essay, about the cathedral/bazaar metaphor, is flawed based on his own data. His writing has the grandiose vacuity of a Wired editorial.
Review by jonbeckett
16/06/2015
The first section, or paper, is excellent - with many accurate observations and thought provoking insights.The rest of the book descends into management navel gazing, which is a shame.
Review by tony_landis
16/06/2015
A brief but succinct overview of the two different models era 2000
Review by Fouad_Bendris
16/06/2015
Interesting mind set for surrounding global commitment over any Corporate folks vs. huge Community - This is for sure a kind of new 'Business Model' to learn ! Thursday, Dec 16 2010