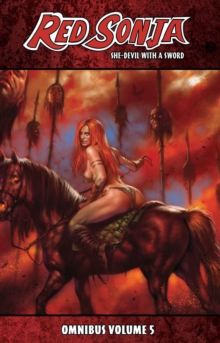 Red Sonja Omnibus Volume 5
Paperback
Description
Red Sonja, She-Devil with a Sword, cuts a bloody swath from the jade kingdomof Khitai to her homeland of Hyrkania... and on a collision course with her mostfearsome foe yet: the time-lost vampire lord, Dracula!
Drawn to Khitai with thepromise of riches, Sonja becomes bound my ancient codes of honor to join thefabled land's most revered warrior in conflict against a creature of limitlesspower.
Pursued afterward by two deadly adversaries - the armored maniacOmaju and a mirror-image doppleganger named Khala - thescarlet-haired heroine discovers an even worse threat waiting for her at home,as the legendary lord of the undead aims to conquer the past with hisbloodthirsty legions.
Can Red Sonja defeat Dracula... or will she succumb to hisvampire bite and kill in his name?
Information
Format: Paperback
Pages: 328 pages
Publisher: Dynamic Forces Inc
Publication Date: 01/07/2014
Category: Fantasy
ISBN: 9781606904886
Free Home Delivery
on all orders
Pick up orders
from local bookshops