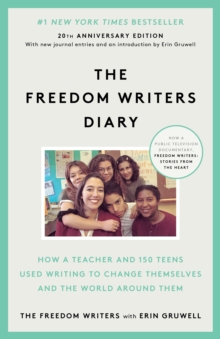 The Freedom Writers Diary : How a Teacher and 150 Teens Used Writing to Change Themselves and the World Around Them
Paperback
Information
Format: Paperback
Pages: 316 pages
Publisher: Broadway Books (A Division of Bantam Doubleday Del
Publication Date: 15/09/1999
ISBN: 9780385494229
Free Home Delivery
on all orders
Pick up orders
from local bookshops
Reviews
Showing 1 - 5 of 26 reviews.
Previous | Next
Review by goodnightmoon
16/06/2015
The best thing about this book is the stories of growing up poor in LA. They're real stories, and they are heartbreaking. The worst thing about this book is, well, the book. You just start reading these diary entries from page 1, and you never get to know WHY they started writing diaries. There is plenty about how being a Freedom Writer opened doors to them, how they met famous people and got computers donated and were interviewed by Connie Chung, etc, etc. But WHY? What did they DO? The subtitle, "How a Teacher and 150 Teens Used Writing to Change Themselves and the World Around Them," is thus misleading. They will not tell you HOW they used writing to change anything. Also, the writing is atrociously edited. And by that I mean that it was edited at all. I would not for a second believe that teenagers would write things like "Why can't [Ms. Gruwell] talk monotonously through the whole class period? Why couldn't she be boring like my other teachers?" or "We were supposed to read this play, Romeo and Juliet, by some guy who talks funny - 'thou' this and 'thee' that..." I would much prefer to read their first thoughts, their real turns of phrase. In that sense, you will be reading their words, but you will not be hearing their voices.
Review by eo206
16/06/2015
If you enjoyed this book or want to read more about the Freedom Writers, check out Erin Gruwell's book Teach With Your Heart. Gruwell writes about teaching the Freedom Writers the the journey behind these writer-students. The Freedom Writers also had a movie made about them starring Hilary Swank.
Review by WittyreaderLI
16/06/2015
Erin Gruwell is not the teacher you had in high school most likely. She decides to teach her students tolerence and her class soon becomes extremely popular. THis book is a fun, quick, but sometimes confusing read. The journals written by the students are numbered and offer no continuity.
Review by benuathanasia
16/06/2015
A brilliantly devised collection of stories. I applaud the teacher for her efforts, but no one has the energy or motivation to maintain that kind of energy.
Review by abbylibrarian
16/06/2015
The Freedom Writers' Diary is a collection of diary entries by 150 kids in an urban California school. Thanks to their bright, young English teacher they channel their feelings about tough living situations, pressures at school, gang activities, family problems, etc. into their diaries. The book was a collaborative effort based on Anne Frank's diary and Zlata Filipovic's diary and it chronicles what they consider to be their own "war". It was frank and moving. Although the diary entries are anonymous, you could see certain kids developing solutions to their problems. You definitely get the feel that the Freedom Writers are a family to each other. I think this book should be required reading for high schoolers and teachers, especially in urban areas.
Also by Erin Gruwell