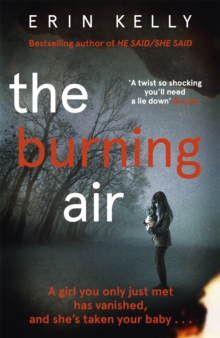 The Burning Air
Paperback
Description
'A gripping tale of secrets, revenge and obsession, masterfully done.' GuardianGripping and chilling, with a killer twist, THE BURNING AIR proves that Erin Kelly is one of Britain's best suspense writers.Of course it was love for my children, love for my son, that caused me to act as I did.
It was a lapse of judgement. If I could have foreseen the rippling aftershocks that followed I would have acted differently, but by the time I realised the extent of the consequences, it was too late.The MacBrides have always gone to Far Barn in Devon for Bonfire Night, but this year everything is different.
Lydia, the matriarch, is dead; Sophie, the eldest daughter, is desperately trying to repair a crumbling marriage; and Felix, the youngest of the family, has brought a girlfriend with him for the first time.
The girl, Kerry, seems odd in a way nobody can quite put their finger on - but when they leave her looking after Sophie's baby daughter, and return to find both Kerry and the baby gone, they are forced to ask themselves if they have allowed a cuckoo into their nest . . .
Information
Format: Paperback
Pages: 384 pages, n/a
Publisher: Hodder & Stoughton General Division
Publication Date: 29/08/2013
Category: Crime & mystery
ISBN: 9781444728347
Other Formats
Hardback from £12.95
EPUB from £2.99
Free Home Delivery
on all orders
Pick up orders
from local bookshops
Reviews
Showing 1 - 1 of 1 reviews.
Review by brokenangelkisses
27/08/2015
Sometimes a book simply grips you.Despite the ample distractions provided by an 11 month old baby, a two year old toddler and a demanding annual project, I read this book from start to finish in under 48 hours. (The house may have descended into more chaos and mess than is usual, (yes, worryingly, it transpires that is possible,) but I realised that small children care not at all whether Mummy spent her evening washing every dish and item of clothing or sat with her feet up on the sofa reading. Result.)What's it about?The MacBride clan are gathering for Bonfire Night, but this year everything is different. Matriarch Lydia has died; eldest daughter Sophie is having marriage difficulties; Felix, the youngest, has brought a girlfriend for the first time; and the girlfriend is slightly...odd. Despite feeling ill at ease with the near-silent Kerry, Sophie agrees to leave her baby with her for an evening so the MacBride family can spend time together, but when they return Kerry and the baby are gone. Then they discover that Kerry isn't who they thought...What's it like?This frightening scenario develops in an atmosphere taut with unease. The book has three openings, all of them deeply intriguing. First, Lydia MacBride teeters on the brink of a written confession, without revealing what she did that would destroy her family's good opinion of her forever. Next, we witness Sophie caught in a maelstrom of events as her mother lies dying in hospital, she goes into labour, and the contents of an envelope destroy her trust in her husband. Then, nearly a year later, the family begin to arrive at Far Barn in Devon, and nothing is quite as it should be.The isolated location and family tensions settle layers of warning like a fine mist across the story until the key event happens, and the narration moves elsewhere. Kelly builds neatly to a shocking twist half-way through before changing the narrative focus again and creating a powerful ending which leaves the family stunned and vulnerable. In short, it's a superb psychological chiller.Final thoughts'The Burning Air' is convincingly written, credibly crafted and deftly handled. The characterisation is excellent and the dysfuctional families sadly believable. Every element in the story works to form a coherent and thrilling whole. I thoroughly enjoyed reading it and will definitely be seeking out more of Erin Kelly's work. Fortunately, there are several novels in her back catalogue - 'The Poison Tree', 'The Sick Rose' and an adaptation of ITV popular drama 'Broadchurch' - as well as a more recent novel, 'The Ties That Bind'. The only question now is where to start.