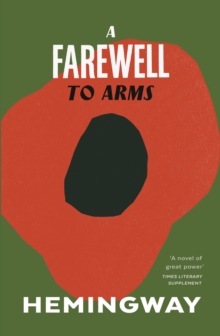 A Farewell To Arms
Paperback
Description
In 1918 Ernest Hemingway went to war. He volunteered for ambulance service in Italy, was wounded and twice decorated.
Out of his experience came A Farewell to Arms. Hemingway's description of war is unforgettable. He recreates the fear, the comradeship, the courage of his young American volunteer, and the men and women he meets in Italy, with total conviction.
But A Farewell to Arms is not only a novel of war. In it Hemingway has also created a love story of immense drama and uncompromising passion.
Information
Format: Paperback
Pages: 304 pages
Publisher: Vintage Publishing
Publication Date: 04/02/1999
ISBN: 9780099273974
Other Formats
Paperback from £5.59
Hardback from £7.39
CD-Audio from £18.65
eAudiobook MP3 from £20.12
Paperback / softback from £11.35
Free Home Delivery
on all orders
Pick up orders
from local bookshops
Reviews
Showing 1 - 4 of 4 reviews.
Review by mjmorrison1971
16/06/2015
A really easy read, with Hemmingway's straightforward style, he creates plenty of memorable characters and manages to impress on the reader the futility of war. Mostly, this book in a love story set in a time of war. The two main characters share a wonderful, if ultimately doomed affair. By about the last 30 pages the ending had occurred to me but none the less I needed to read on to see the finer details of how Frederic reacts. I found this a more satisfing book than "The Old Man and the Sea". Probably because I felt I could relate better to the charcacters – particualarly Frederic toward the end of the book.
Review by littlepegleg
16/06/2015
I love this guy and the war and the struggles going through his head. It makes it all worth reading, especially since I love the History Channel. My dad lived through a lot of these struggles during WW2, so I connect in a personal way that many might not. I'm the end of the Baby Boomers, born to parents nearly forty.
Review by LARA335
16/06/2015
I vaguely remember reading this novel as a teenager for a course I abandoned. Half a lifetime away, I can sympathise with my young self. This time round I expected to love this: a Classic, a love story, taking place in WW1, written by a participant.I actually found it dire. I presume the 'classic' status was because of the contemporary subject matter and sparse writing. But read almost a century later, the sentence structure was so monotonous, I began to try and spot the rare sentence that didn't contain an 'and' just to liven up the reading experience.At first when a character repeated himself I thought it showed realism and a personality trait. But every character did it, every time they spoke. Crumps Hemingway's got me doing it now.In other writers, describing events reveals character and emotions, but I simply felt here that description was all because there was no inner thought or feeling. Won't be picking up another Hemingway anytime soon.
Review by Mercury57
16/06/2015
When a book comes from the pen of a Nobel prize-winning author and it's his first best-seller, my expectation is that I'll be offered something special. But the only sensation brought on by reading Ernest Hemingway's A Farewell to Arms was one of mystification about why this novel is rated so highly.The story is a romance set in Italy during World War 1 between an American serving with the Italian forces and a British nurse. It's based on Hemingway's own experiences while serving as an ambulance driver on the Austrian-Italian front. The driver and the nurse meet, have a passionate affair, flee the country and spend months billing and cooing in a snowy idyll somewhere in Switzerland. Which doesn't sound too bad a plot. The problem for me was that the story is related with all the passion of someone reading the back of a cornflakes box.I understand that Hemingway was striving for an ultra lean writing style; one that avoided complicated syntax and eliminated what he considered unnecessary punctuation. Where many authors used the comma to connect phrases, Hemingway preferred to use 'and' as his connector. The result is so pared down it felt drained of all colour and vitality. Conversations between the two love birds were rendered in such a simple way that it was very hard to get inside their heads and to experience the intensity of the emotion they felt for each other. In short I found the whole thing under-whelming.