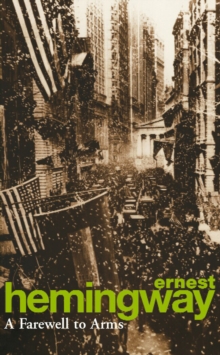 Farewell to Arms,A
Paperback
Description
In 1918 Ernest Hemingway went to war, to the 'war to end all wars'.
He volunteered for ambulance service in Italy, was wounded and twice decorated.
Out of his experiences came his early masterpiece, A Farewell to Arms.
In an unforgettable depiction of war, Hemingway recreates the fear, the comradeship, the courage of his young American volunteers and the men and women he encounters along the way with conviction and brutal honesty.
A love story of immense drama and uncompromising passion, A Farewell to Arms offers a unique and unflinching view of the world and people, by the winner of the 1954 Nobel Prize for Literature.
Information
Format: Paperback
Pages: 304 pages
Publisher: Cornerstone
Publication Date: 18/08/1994
ISBN: 9780099910107
Other Formats
Paperback from £6.29
Hardback from £7.39
EPUB from £6.99
CD-Audio from £18.65
eAudiobook MP3 from £20.12
Paperback / softback from £11.35
Free Home Delivery
on all orders
Pick up orders
from local bookshops
Reviews
Showing 1 - 5 of 12 reviews.
Previous | Next
Review by soylentgreen23
16/06/2015
It's funny how I sometimes read books for the silliest of reasons. In this case, I took this beautiful orange book with me to the Algarve in Portugal simply because of a throwaway reference in Raimi's second "Evil Dead" movie.The story is terrific - exiting and moving and terrifying when it needs to be. It is one of Hemingway's most popular tales, of the ambulanceman injured in the war, who falls in love with a nurse and tries to escape with her into Switzerland. The ending rates amongst the most tragic ever written.
Review by CatyM
16/06/2015
Depressing. Bleak, unemotional and unengaging. I found Hemingway's prose style annoying and his dialogue worse, and I didn't like his characters. On the other hand, I thought that the plot was well-constructed - I'd have been very surprised if it hadn't been - and that the the book did a good job of conveying the bleakness and uncertainty of war. I made it to the end, but it was a struggle at times.I'm aware, though, that I'm in a minority and many people love the very things that made me dislike the book. If you like terse prose and depressing war stories, you'll love this book.
Review by LisaMaria_C
16/06/2015
I admit I heartily hated this book. I have admired and enjoyed short stories by Hemingway: "The Snows of Kilimanjaro," "Hills Like White Elephants," "A Clean, Well-Lighted Place." Perhaps it's that his style is not all that amenable to a long form, although I admit this is the only novel by him I've read. The flyleaf of the hardcover edition of <i>A Farewell to Arms</i> that I read claimed that Hemingway's "short declarative sentences and terse prose" revolutionized American literature. I wish his prose here <i>was</i> terse, which to me would imply economical and precise. To me his prose in this novel comes across more as mannered, monotonous and meandering. Here's <i>one</i>, not untypical, sentence from early on:<i>The mountain that was beyond the valley and the hillside where the chestnut forest grew was captured and there were victories beyond the plain on the plateau to the south and we crossed the river in August and lived in a house in Gorizia that had a fountain and many thick shady trees in a walled garden and a wisteria vine purple on the side of the house.</i>Try saying that three times quickly without pause!I found this one of the most tedious classic novels I have ever forced myself through. I've also heard that this is an amazing love story. Well, I have to tell you, I've read a lot of literary heart throbs, even flawed anti-heroes, who if they walked off the page, reader, I'd marry him! In the case of Lieutenant Frederick Henry, goodness, all I could think is what does Catherine see in him, and boy he sure drinks like a fish. He's supposedly a "man's man" sort of guy and he left me absolutely cold, and he's strangely opaque for a protagonist that also carries the first person narration. The novel almost feels third person, I get so little sense of a voice or personality. Nor does his love, Nurse Catherine Barkley, ever come across as a real person to me. Even Bella of <i>Twilight</i> fame came across to me as less self-effacing. ("There isn't any me. I'm you. Don't make up a separate me.") The dialogue between the two lovers was actually painful to read.So, unbearable prose style, often cheesy or wooden dialogue, flat characters? Was there anything about this novel I liked? Well, like Henry, Hemingway himself served in World War I in Italy as a ambulance driver. Every once in a while, I'd catch him writing something horrifying and real. Whether it's his casual mention of thousands dying of cholera, or passages like this one: <i>If people bring so much courage to this world the world has to kill them to break them, so of course it kills them. The world breaks every one and afterward many are strong at the broken places. But those that will not break it kills. It kills the very good and the very gentle and the very brave impartially. If you are none of these you can be sure it will kill you too but there will be no special hurry.</i>I wish there was more of that. But lines like those were buried in such tedium it was hard to enjoy them when they came by.
Review by Glorybe1
16/06/2015
I really can't say I enjoyed this book. I couldn't connect with the main character at all, I found his writing style very disjointed and old fashioned. And couldn't really find anything great about it. Catherine seemed a bit nutty to me, darling this and that, with totally inane comments throughout. The ending was sad, but that was about it for me!
Review by Miguelnunonave
16/06/2015
Classic war novel, extremely well written, memorable passages. Something everyone should have read.