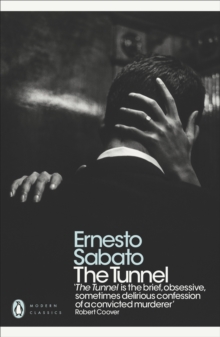 Description
Framed as the confession of a tormented outcast who has murdered the only woman capable of understanding him, Ernesto Sabato's The Tunnel has been acclaimed as a masterpiece by writers such as Albert Camus and Graham Greene.
This Penguin Classics edition is translated by Margaret Sayers Peden with an introduction by Colm Toibin.Infamous for the murder of Maria Iribarne, the artist Juan Pablo Castel is now writing a detailed account of his relationship with the victim from his prison cell: obsessed from the first moment he saw her examining one of his paintings, Castel had become fixated on her over the next months and fantasized over how they might meet again.
When he happened upon her one day, a relationship was formed which swiftly convinced him of their mutual love.
But Castel's growing paranoia would lead him to destroy the one thing he truly cared about...Ernesto Sabato (1911-2011) was born in Rojas, a small town in Buenos Aires Province.
He read physics at the Universidad Nacional de La Plata, attended the Sorbonne in Paris, and worked at the Curie Institute.
After World War II, he lost faith in science and began writing fiction.If you enjoyed The Tunnel, you might like Albert Camus' The Outsider, also available in Penguin Modern Classics.'Sabato captures the intensity of passions run into uncharted passages where love promises not tranquillity, but danger'Los Angeles Times'An existentialist classic ...
Retains a chilling, memorable power'The New York Times Book Review
Information
Format: Paperback
Pages: 160 pages
Publisher: Penguin Books Ltd
Publication Date: 27/04/2011
ISBN: 9780141194547
Free Home Delivery
on all orders
Pick up orders
from local bookshops
Reviews
Showing 1 - 4 of 4 reviews.
Review by gaskella
16/06/2015
Ernesto Sabato died recently, just two months short of his one hundredth birthday. He was regarded as one of the greats of Argentinian literature, having written three novels and many more essays. A physicist, he worked at the Curie Institute in Paris where he met the Surrealists, then MIT, before having an existential crisis and abandoning science for writing. The Tunnel was his first novel, published in Spanish in 1948 and becoming a big hit in France – Albert Camus was a fan. I knew none of the above before reading this short novel which has recently been given the new Penguin Modern Classics treatment, I was attracted to the story of a murderer telling how he met and killed his victim.Juan Pablo Castel is an artist, convicted for the murder of Maria Iribarne. He decides to tell the story of exactly what happened between them – not to offer explanations, but in telling the details of their relationship, that people could understand him. He claims it is not out of vanity, but it is clear from the start that the man has a monstrous ego, and doesn't care what anyone else thinks. Castel appears to hate everyone. He allows his psychoanalyst to take him to a meeting…"Some I knew by name, like Dr Goldenberg, who had recently made quite a name for himself in the course of treating a female patient, they had both ended up in a mental institution. He had just been released. … The way he praised my paintings, I knew that he despised them.More than any other, however, I detest groups of painters. Partly, of course because painting is what I know best, and we all know that we have greater reason to detest the tings we know well. But I have still another reason: THE CRITICS. They are a plague I have never understood. … There might be some excuse for listening to the opinions of a critic who onced painted, even if only mediocre works. But that is just as absurd; because what could be reasonable about a mediocre painter giving advice to a good one."He first sees Maria at a gallery. She is staring at his painting, but at a small detail rather than the main picture. Castel has distilled all the meaning of the painting into this little area, and she appears to have understood that unlike everyone else. Her fate is sealed.Castel stalks her, contrives meetings, and eventually confronts her before forcing her into an affair with him, but the more he finds out about her life, the more he begins to get jealous. Each time she appears to break it off, he persuades her to come back, but he can't cope with her having her own life too, and one day he can't stand it any more.Castel is vile and nasty, an egotist and an utter snob. He is also totally unreliable. He doesn't set out to make us like him at all; my loathing of him grew page by page. Maria is harder to understand – why did she let him force her into an unsuitable relationship? I could only assume it was the attraction of a bit of rough, but she was stupid not to break it off properly at the first sign of trouble.The grimness of Castel's obsession is leavened by occasional glimpses of black humour. In one scene, which would be Pythonesque if it hadn't preceded them, he tries to retrieve a letter to Maria back from the postmistress with whom he has recently left it. But these scenes don't make up for his virtual lack of redeeming features. I didn't like Maria either – but then we only heard Castel's side of the story. Frankly, by the end of this short novel, I didn't really care much. This novel has a certain power and grip, but by wallowing in Castel's miseries so much it lost its drive for me. At 140 pages it was too much of a bad, good thing. (6.5/10)
Review by polarbear123
16/06/2015
Ok I am a bit biased here as this book was one of my first loves but just rereading it again as reaffirmed this. The prose flows so well ad the descriptions and metaphors are always satisfying. Sabato really gets into the lover's mind here and we are treated to that painful process of going through absolutely everything your lover says and those around you both to find some sort of hidden meaning. Castel gradually drives himself mad through this process and we can see this coming but it is griping stuff nonetheless. If you can't see parts of your own personality in Castel then either you are lieing or you really have never loved!
Review by passion4reading
16/06/2015
A fictionalised account of a convicted murderer, a picture very quickly emerges of an arrogant, controlling individual whose unhealthy obsession with an unknown woman at an art exhibition eventually spirals out of control and ends with him killing her.Juan Pablo Castel comes across as a very unsympathetic and condescending character with a methodical and calculating mind, and maybe with this confession given the opportunity to finally tell his part of the story in full. He promises to "tell the story of my crime - that and nothing more." Yet the first few chapters have the feel of someone writing down his thoughts uncensored and unedited, rambling, finally able to tell the art critics and the world in general what he thinks of them and people at last willing to listen, as a serialisation in broadsheet newspapers perhaps? (" How often have I sat for hours in some dark corner of my studio, driven to despair by reading an account of some crime in the newspaper. Even so, it is not always in accounts of crimes that we find the most reprehensible acts of humankind; to a degree, criminals are the most decent and least offensive people among us. I do not make this statement because I myself have killed another human being; it is my profound and honest conviction. Is a certain individual a menace to society? Then eliminate him and let that be an end to it. That is what I could call a good deed. Think how much worse it would be for society if that person would be allowed to continue distilling his poison; think how pointless it would be if instead of eliminating him you attempted to forestall him by means of anonymous letters, or slander, or other loathsome measures. As for myself, I frankly confess that I now regret not having used my time to better advantage when I was a free man, that is, for not having done away with six or seven individuals I could name.") To me, this passage perfectly encapsulates the essence of his character, established in the first chapter: someone who superficially still gives the appearance of being of sound mind, yet from one moment to the next is able to utter something completely insane, the fact that he talks so calmly about his callous disregard for someone's life making it even more chilling. As he plays through every permutation of how he might see her again, and which shape the encounter would take, I became very afraid for Maria, the impression one of a seriously disturbed individual. After a chance encounter he even resorts to stalking her, sending her letters and calling her at home, extremely possessive and always wanting to be in control, and already showing signs of severe paranoia. Yet there are also glimpses of a different character underneath: someone who is shy and self-conscious, and aware of his faults and shortcomings; in these instances I could not help but feel empathy and pity for him. Then, from page 84 onwards, the psychological study of a killer's mind becomes something else: the dream about his transformation (a common existential theme?), the seemingly endless exchange of trivialities between Hunter and Mimi that bear only the slightest connection to the events, the farcical episode at the post office when he tries to retrieve a letter he's just posted. He turns from a calculating person into an impulsive one, shows what resembles self-pity and regret at his terrible deed, talks of sensuality and love, at times even becoming gushing. In my opinion, this just doesn't square with the person who was established in the first chapter, even though the killer with his twisted sense of logic and driven by his obsession is still visible underneath. And what are we to make of Maria, when Juan stabs her in an absolute frenzy, yet she doesn't scream or even attempt to defend herself, just accepting her fate as if she deserved it? Described as an existentialist classic by the New York Times Book Review, the main ideas of this school of thought are in evidence: life without meaning, despair, angst, individuals taking responsibility for their own actions; maybe the existentialists amongst the readers will find no fault with this book, but I'm afraid that after a promising start it descended into something altogether mediocre.(This review was originally written as part of Amazon's Vine programme.)
Review by HadriantheBlind
16/06/2015
A taut and powerful book, speckled with monologues like the Underground Man's or Josef K.'s, a violent and 'love story', and a hideous murder out of deluded obsession and possessive hatred. (This is no spoiler - our narrator tells you all this in Capitulo I). <br/><br/>When it was released in the late 1940s, it was then classified as an existential novel, in the vein of Dostoyevsky and Camus. Presently, however, it may be regarded more of a successor to the former, in its psychological portrait of a deranged man and his ugly descent into hatred and violence.<br/><br/>(Read in the original Spanish/Lo leí en el español original)<br/><br/>
Also by Ernesto Sabato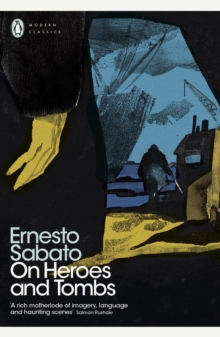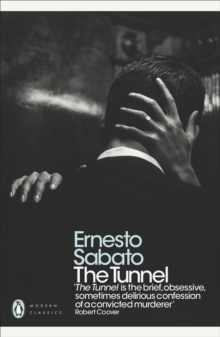 Also in the Penguin Modern Classics series | View all