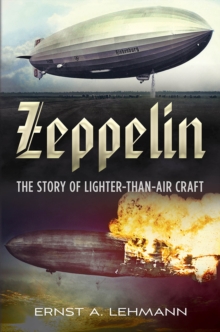 Zeppelin : The Story of Lighter-Than-Air Craft
Hardback
Description
The author of this book, Ernst A. Lehmann, was close to the Zeppelin story from its early days and had great faith in the ever increasing success of the Zeppelin on international routes.
It is sadly ironic that this talented man and strong advocate of the Zeppelin should die in Hindenburg disaster shortly after he had produced the draft for this book.
He died following the fire that destroyed the Hindenburg on 6 May 1937; he survived the fire itself but was badly burned and died the following day.
Lehmann was a Zeppelin commander during the First World War bombing England on numerous occasions, and even met some of the supreme German commanders such as General Erich Ludendorff.
He was well acquainted with Count Zeppelin and all of the designers and management of the Zeppelin Company.
After the war he worked for the Zeppelin Company under Hugo Eckener, who took over the management following Count Zeppelin's death in 1917.
Lehmann was closely involved in the voyages of the Graf Zeppelin, including the famous round the world voyage, and pioneered services to the Unites States and the regular service to South America.Lehmann makes his Nazi sympathies quite clear, but tactfully does not touch upon his differences with Hugo Eckener regarding the use of the airships for Nazi electioneering-for Eckener was strongly against it. Nor does he touch upon Goring's manoeuvring which broke up the Zeppelin Company, thereby leaving Eckener as an outsider.
He believes in the superiority of German engineering and beyond that the superiority of everything German.Lehmann served as commanding officer on more than 100 of the flights of the Graf Zeppelin between 1928 and 1936.
In 1935, when Hermann Goring created the Deutsche Zeppelin Reederei to increase Nazi influence over Zeppelin operations, Captain Lehmann was named director of the new airline.
In 1936, he commanded 10 round-trip flights to Lakehurst on the new Hindenburg.The text is well-written, approachable, and provides a comprehensive account of the Zeppelin story until the 1937 disaster which cost the author his life.
Information
Format: Hardback
Pages: 352 pages
Publisher: Fonthill Media
Publication Date: 01/06/2015
Category: First World War
ISBN: 9781781550120