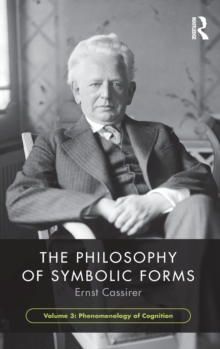 The Philosophy of Symbolic Forms, Volume 3 : The Phenomenology of Knowledge
Hardback
Description
Ernst Cassirer occupies a unique space in Twentieth-century philosophy.
A great liberal humanist, his multi-faceted work spans the history of philosophy, the philosophy of science, intellectual history, aesthetics, epistemology, the study of language and myth, and more. The Philosophy of Symbolic Forms is Cassirer's most important work.
It was first published in German in 1923, the third and final volume appearing in 1929.
In it Cassirer presents a radical new philosophical worldview - at once rich, creative and controversial - of human beings as fundamentally "symbolic animals", placing signs and systems of expression between themselves and the world. This major new translation, the first for over fifty years, brings Cassirer's magnum opus to a new generation of students and scholars.
Volume 3: The Phenomenology of Knowledge is a fascinating exploration of epistemology, examining themes of knowledge, perception and consciousness across the human sciences, including significant arguments concerning knowledge in mathematics and the physical sciences. Correcting important errors in previous English editions, this translation reflects the contributions of significant advances in Cassirer scholarship over the last twenty to thirty years.
Each volume includes a new introduction and translator's notes by S.
G. Lofts, a foreword by Peter Gordon, a glossary of key terms, and a thorough index.
Free Home Delivery
on all orders
Pick up orders
from local bookshops