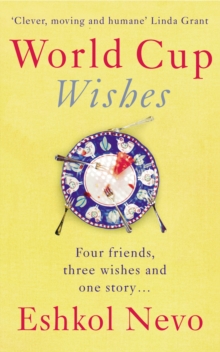 World Cup Wishes
Paperback
Description
Four friends get together to watch the 1998 World Cup final. One of them has an idea: let's write down our wishes for the next few years, put them away, and during the next final - four years from now - we'll get them out and see how many we've achieved.
This is how World Cup Wishes opens, and from here we watch what happens to their wishes and their friendships as life marches on. The four men's bond is deep and solid, but tested by betrayal, death,and distance their alliance comes under pressure. Each friend offers a different perspective, though not necessarily a reliable one... and as they and the world around them change, so do their ideas of friendship and happiness.
By the end they are forced to ask whether wishes can really be fulfilled. Or will their story turn out to be a requiem - for a generation, for friendship, or even for one of the four young men?Once again, Eshkol Nevo has produced a novel suffused with charm, warmth and an astonishing wisdom.
Information
Format: Paperback
Pages: 352 pages
Publisher: Vintage Publishing
Publication Date: 06/05/2010
ISBN: 9780701184421
Free Home Delivery
on all orders
Pick up orders
from local bookshops
Reviews
Showing 1 - 1 of 1 reviews.
Review by -Eva-
16/06/2015
To pun off the title: Gooooal! Nevo's novel about friendship and life ponders the choices and plans we make, thinking that we're right about what we want and about who we are. The four friends make their wishes for the future, based on what they know that particular day, but of course life doesn't work quite that way and they all end up walking in someone else's shoes and changing, with or against their own volition. I read Nevo's first novel, <i>Homesick</i>, last year and was impressed with the way he uses the multi-voiced narrative to present different viewpoints. However, in <i>Homesick</i> it caused some confusion as to who was speaking, but here, in <i>World Cup Wishes</i>, he has lets each person's voice through with one - and sometimes two - narrators; Churchill lets us know in the first few pages that Yuval's story isn't exactly "true" and so the reader is forced to read between the lines for the others' viewpoints. The characters are so human, so vulnerable, that I'm almost have to remind myself a few times that these are fictional characters - to me, that's a feat and I love Nevo for letting me get to know his friends, real or not.