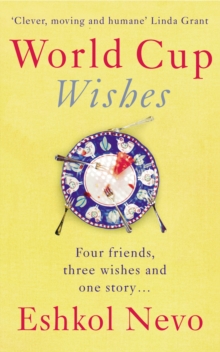 World Cup Wishes
Paperback / softback
Description
Four friends get together to watch the 1998 World Cup final. One of them has an idea: let's write down our wishes for the next few years, put them away, and during the next final - four years from now - we'll get them out and see how many we've achieved.
This is how World Cup Wishes opens, and from here we watch what happens to their wishes and their friendships as life marches on. The four men's bond is deep and solid, but tested by betrayal, death,and distance their alliance comes under pressure. Each friend offers a different perspective, though not necessarily a reliable one... and as they and the world around them change, so do their ideas of friendship and happiness.
By the end they are forced to ask whether wishes can really be fulfilled. Or will their story turn out to be a requiem - for a generation, for friendship, or even for one of the four young men?Once again, Eshkol Nevo has produced a novel suffused with charm, warmth and an astonishing wisdom.
Information
Format: Paperback / softback
Pages: 352 pages
Publisher: Vintage Publishing
Publication Date: 06/05/2010
ISBN: 9780701184421
Free Home Delivery
on all orders
Pick up orders
from local bookshops