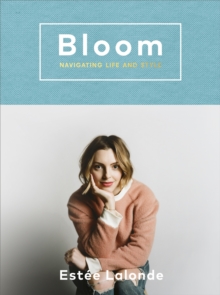 Bloom : navigating life and style
Hardback
Description
'For me, the word "bloom" encapsulates the idea that anything is possible when you put your mind to it.
It's a word that hints at becoming who you are meant to be.' Estee LalondeIn Bloom, Estee shares the moments, people, things and life lessons that have made her who she is today and offers her tips for surviving life.
Celebrate your bloom story and what makes you unique. Life * People * Work * Beauty * Fashion * Home * Travel * FoodWhat readers think of Bloom:'Congratulations @EsteeLalonde on your new book Bloom, which is so aethetically pleasing I just want to stare at it all day long' @Zoella'Already up to page 91 of #BloomBook and I've laughed, cried and felt all the emotions.
I've not read a book in years!!!' @inthefrow'Just finished reading #BloomBook - honest, refreshing, inspiring and moving.' @lilyvtomlinson'So #BloomBook just arrived in my mailbox in Australia, I'm 20 pages in, and already crying because it's so relatable.' @HonorLuckhurst'Reading Bloom is like reading the pages of my own journal.
I love it so much.' @ashleyjlovesyou'In love with #BloomBook' @taraacaseyy'I just started @EsteeLalonde's book and I can't stop reading it, I'm loving it so much.' @FelicitybyFendi'Just don't want to finish this book.
So inspiring, thank you @EsteeLalonde for sharing your story.' @NatureElf
Information
Format:Hardback
Pages:256 pages
Publisher:Ebury Publishing
Publication Date:06/10/2016
Category:
ISBN:9781785033650