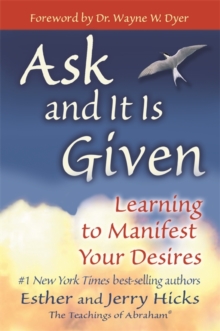 Ask and it is Given : Learning to Manifest the Law of Attraction
Paperback
Description
Esther and Jerry Hicks' first book presenting the teachings of the non-physical entity Abraham has drawn an extraordinary collection of endorsements from people keen to draw attention to the message that Abraham has to convey.
Endorsements have been received from Neale Donald Walsch, John Gray, Wayne Dyer, Louise L.
Hay, Jack Canfield and Christine Northrup. This book explains how our relationships, health issues, finances, career concerns are influenced by the Universal laws that govern our time/space reality and describes powerful processes that will help people manifest their desires and live the fulfilling life you deserve.
Free Home Delivery
on all orders
Pick up orders
from local bookshops
Reviews
Showing 1 - 5 of 5 reviews.
Review by mccin68
16/06/2015
Teachs that your emotional state is what fuels the manifestation of your thoughts. your desire to have may be offset by your feelings of whether or not you deserve it. the emotional guidance scale is a wonderful tool for persons to begin to identify their emotional state. hicks gives some concrete steps in moving yourself up the emotional scale towards positive, joyful feelings.
Review by kidrah
16/06/2015
The problem with this book, like many others in this "The Secret" category is that it speaks to you like you're a child. It expects you to believe everything they say about the "law of attraction" as gospel without any real commentary about it. But, the book redeems itself with a cool 22-point-scale of emotions and multiple meditation, visualization, and self-affirmation exercises that you can use based on which ones match your style - these exercises have already entered my subconscious.
Review by INTPLibrarian
16/06/2015
Like the concept, but this was a tad creepy. IMNSHO.
Review by kmstock
16/06/2015
Well, this is an interesting book. It talks about how what you attract in your life is determined by the content of your thoughts, and how you can choose to attract certain things (money, jobs, relationships) if you focus your thoughts appropriately, as long as your vibration is right. Most of us concentrate our thoughts on the things that we don't want, which makes it less likely that we'll get the things we do want. I'm still testing the theory...
Review by PamelaFarley
16/06/2015
This book is the first of several written by Esther Hicks and Abraham (The Teachings of Abraham) in which the Law of Attraction is explained. Most importantly, it reminds us who/what we are and why we are here on this earth. It clears up, for me at least, many of life's ambiguities, questions and fears concerning God, religion, death, purpose for living, karma, suffering, et cetera It helps one to connect all the dots. For anyone who is ready to hear it's message, this is an authentic life-changing book.