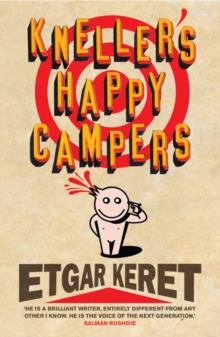 Kneller's Happy Campers
Paperback
Description
Kneller's Happy Campers is a strange, dark but funny tale set in a world very much like our own but it's an afterlife populated by people who have killed themselves - many of them are young, and most of them bear the marks of their death...bullet wounds, broken necks...(those who have over-dosed are known as 'Juliets').
When Mordy, our hero, discovers that his girlfriend from his life before has also 'offed' herself, he sets out to find her, and so follows a strange adventure...Full of the weird and wonderful characters, and the slightly surreal twist of events that we've come to expect from Etgar Keret, this novella is full of humour and comic flashes, but it is also wistful, longing for a better world and perfect love.
Information
Format: Paperback
Pages: 96 pages
Publisher: Vintage Publishing
Publication Date: 01/05/2009
ISBN: 9780701184315
Free Home Delivery
on all orders
Pick up orders
from local bookshops
Reviews
Showing 1 - 2 of 2 reviews.
Review by sanddancer
16/06/2015
This is an oddly sweet novella about the afterlife in the place reserved just for people who've commited suicide. This other world is actually rather like ours (people still have boring jobs, girl troubles and go out drinking), but with a few surreal twists. Each chapter begins with the chapter number and a sentence to describe what is going to happen which was a nice little device. Despite the potentially morbid subject matter, I found this book quite delightful and oddly comforting.
Review by fist
27/08/2015
Weird and wonderful collection of very short chapters, almost vignettes, that take place in an afterlife exclusively populated by people who killed themselves. Oddly, the hereafter looks a lot like modern-day Israel. It's a really short book, full with wry wit, that nonetheless leaves the reader pondering existential questions. Think Gary Stheyngart's earlier novels, but funnier and better. It made me very curious to read other works by Etgar Keret.