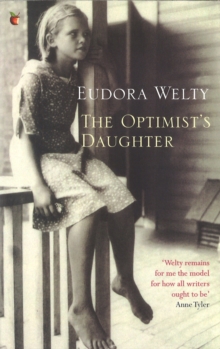 The Optimist's Daughter
Paperback
Description
The people of Mount Salus, Mississippi always felt good about Judge McKelva. He was a quiet, solid reassuring figure, just as a judge should be. Then, ten years after his first wife's death, he marries the frivolous young Wanda Fay.
No-one can understand his action, not least his beloved daughter, Laurel, who finds it hard to accept the new bride. It is only some years later, when circumstance brings her back to her childhood home, that Laurel stirs old memories and comes to understand the peculiarities of her upbringing, and the true relationship between her parents and herself.The Optimist's Daughter is a reflective, poignant novel of independence and love, for which Eudora Welty, one of America's gretest contemporary Southern writers, was awarded the Pulitzer Prize.
Information
Format: Paperback
Pages: 192 pages
Publisher: Little, Brown Book Group
Publication Date: 18/10/1984
ISBN: 9780860683759
Free Home Delivery
on all orders
Pick up orders
from local bookshops
Reviews
Showing 1 - 2 of 2 reviews.
Review by AdonisGuilfoyle
16/06/2015
I really enjoy Southern fiction, which for me is a blend of evocative scenery, nostalgic small town communities and universal emotions. This is my first taste of Eudora Welty's writing, but 'The Optimist's Daughter' is the perfect introduction - concise, lyrical and poignant. Laurel Hand returns to her home town of Mount Salus, Mississippi, to be with her remarried father when he goes into hospital for an operation. She has to deal with her common stepmother, who has escaped her own sprawling family to lay claim to Laurel's family home, as well as her old friends and neighbours, and the memories and guilt of her mother's death. Recently widowed herself, Laurel has to break free of the past and decide to live for herself. Not a lot happens in terms of plot, but the depth of history and feeling is beautifully described, like Laurel's memory of hearing her parents read aloud to each other: 'She cared for her own books, but she cared more for theirs, which meant their voices. ... She was sent to sleep under a velvety cloak of words, richly patterned and stitched with gold, straight out of a fairy tale, while they went reading on into her dreams'. The autobiographical basis for this neat tale adds heartfelt compassion to a metaphor of grief and memory, and I will definitely be reading more by the author.
Review by janeajones
16/06/2015
Like Delta Wedding, The Optimist's Daughter evokes a highly detailed sense of time and space during a momentous, but ordinary, life event; in this case, a funeral in a small Mississippi town in the 1950s. Judge McKelva has died in New Orleans after a cataract operation (no simple procedure as it is today -- at that time a cataract patient had to remain immobilized for days, if not weeks, while the eye healed), and his young wife, Fay, and widowed daughter, Laurel, are left to bring the body home to Mount Salus and arrange the funeral.As indicated by the title, this is Laurel's story -- her coming to terms with losing the last surviving member of her family and the re-storying of her past. The novel has three major segues signalled by the book's divisions into four parts. The first moves from the death of Judge McKelva into the very public viewing of a prominent citizen in the front parlor of his home. Welty brilliantly sketches the town's citizens from the bevy of Laurel's "bridesmaids" to Miss Adele, the local kindergarten teacher, to Major Bullock, the self-important old family friend, who needs to feel that he is running the show. When Fay's family unexpectedly arrives, the genteel Southern ritual shifts into near-comic mode. After the burial, Fay decamps with her family for a few days, and Laurel is left with her closest friends and finally only herself. The novel's mode shifts from dialogue and conversation into internal monologue -- from a hectic public scene into quiet contemplation. As Laurel retrieves her mother's papers and reads her journals, she journeys back into her childhood and finally into her brief marriage that ended with the death of her husband in WWII.Finally as Laurel is preparing to leave to return to her home in Chicago, Fay reappears. "Laurel as not late, not yet, in leaving, but Fay had come early, and in time." There is a final confrontation between the two women and a final confrontation within Laurel's own understanding.The book is beautifully and economically written -- it carried me away throughout a summer night.
Also in the Virago Modern Classics series | View all