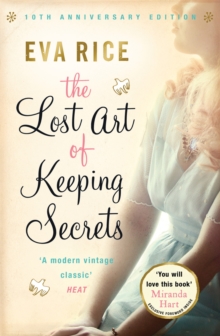 The Lost Art of Keeping Secrets
Paperback
Description
Miranda Hart contributes a fabulous foreword to this beautiful new edition of the beloved bestseller, published to celebrate its ten year anniversary.
Hailed a 'modern vintage classic', The Lost Art of Keeping Secrets was a Richard and Judy Book Club Choice.
This special edition also includes a brand new exclusive short story from Eva Rice, The Moth Trap, which offers a glimpse into the cocktail party where Penelope's parents, Archie and Talitha, first met.Set in the 1950s, in an England still recovering from the Second World War, this is the enchanting story of Penelope Wallace and her eccentric family at the start of the rock'n'roll era.Penelope longs to be grown-up and to fall in love, but various rather inconvenient things keep getting in her way.
Like her mother, a stunning but petulant beauty widowed at a tragically early age, her younger brother Inigo, currently incapable of concentrating on anything that isn't Elvis Presley, a vast but crumbling ancestral home, a severe shortage of cash, and her best friend Charlotte's sardonic cousin Harry...
Information
Format: Paperback
Pages: 480 pages, yes
Publisher: Headline Publishing Group
Publication Date: 24/10/2005
ISBN: 9780755325504
Free Home Delivery
on all orders
Pick up orders
from local bookshops
Reviews
Showing 1 - 5 of 7 reviews.
Previous | Next
Review by phoebesmum
16/06/2015
Fluff, and badly-edited fluff at that, full of anachronistic cultural references. It makes no sense from the word go (a strange young woman asks the protagonist to come to tea with her, to run interference between her and her aunt and cousin – in spite of the fact that she apparently interacts with them on a daily basis); even the title, which is also used as the closing line, seems to have little to do with the story, leaving one with the impression that the author thought of the phrase, then tried to write the book that went with it, but didn't quite make it. Tries to be a cross between 'I Capture the Castle' and 'Love in a Cold Climate', but doesn't quite manage that, either.
Review by nicx27
16/06/2015
I'm not normally a fan of 'hooray henry' style books, but this is absolutely charming. Eva Rice has written a lovely story with some really great, strong characters.The book itself is beautiful, with pink edged pages and drawings every now and again to fit in with the story.I've read Eva Rice's work before, and it was quite different to this, showing that she is an accomplished and versatile author. The Lost Art of Keeping Secrets follows Penelope, an 18 year old who lives with her mother and brother at the huge, problematic stately pile, Milton Magna. She is mad about pop star, Johnnie Ray, and when she meets a girl called Charlotte, who feels exactly the same, she finds a new best friend. She also meets Charlotte's somewhat flighty cousin, Harry, who elicits Penelope's help in trying to win back his former love.What follows is a light-hearted and warm story in which Penelope really seems to come of age. I loved the 1950s history, and the descriptions of parties, soirees at the Ritz, ginger scones at Aunt Clare's house, beautiful party dresses etc - all very evocative of the era.I found this to be a very engaging read and only wish I had read it sooner.
Review by lecari
16/06/2015
I was initially intrigued by the title of this book; it reminded me of a song I like. I received it in a book swap, and although it starts slow, I was glad I persevered.I finished it fairly quickly, and afterwards it didn't really seem like much had happened. It is set in post-WW2 Britain, in the 1950s, and the main character, Penelope, is 18. By chance she meets Charlotte Ferris and her cousin Harry, and this book documents their adventures at Penelope's medieval mansion Milton Magna and the fancy parties Harry is invited to. Penelope is asked to act as Harry's girlfriend to make his ex jealous while he tries to win her back. This is basically the entire plot of the book, which doesn't sound very exciting written down, but it's brilliantly written, and keeps the reader captivated. The characters are all believable and very likeable, too; I shall keep a look out for any other books by Eva Rice. I'd definitely recommend it, perhaps more for an entertaining holiday read than a 'serious' book.
Review by alana_leigh
16/06/2015
My roommate does not really own or even buy books. When she moved in and I offered her a bookcase, she said she just needed two shelves. We both read a great deal; she just tends to read magazines, journals, or newspapers. The point of all this is that on a recent trip to London, she bought me a book, which was a big deal for her. It is one of her favorites and I found it to be quite charming.The Lost Art of Keeping Secrets by Eva Rice (daughter of lyricist Tim Rice) is told from the perspective of Penelope Wallace, an eighteen-year-old girl in 1950s London. Having grown up during the war, she finds herself part of a generation struggling to be young while they still can, listening to music their parents can't stand, falling in love with singers that embody their youths, and indulging in anything that might have once been rationed. Penelope's family lives at Milton Magna, a medieval ancestral home that is crumbling around their ears and they can ill afford it. Penelope's father died in the war, leaving his very young widow with two young children and the weight of the house's crushing debt. Talitha, a once famed beauty and still devastatingly pretty, is only thirty-five, but rattles away in the house with only her children for comfort as she worries about their poverty. Penelope herself is rather tall and not quite as lovely as her mother (who is constantly being mistaken for her sister when they go out shopping together) Penelope's brother attends boarding school, returning home once in a while to fill the house with music from records that his mother dislikes.The book starts with an uncharacteristically impulsive decision on the part of Penelope. While waiting for a bus, a pretty girl in a striking green coat announces that she'd like to split a taxi and Penelope takes her up on it. This is how Penelope meets Charlotte Ferris, a vivacious girl who designs her own clothes and shares Penelope's love of American singer Johnnie Rae. Charlotte whisks Penelope off to tea with her eccentric Aunt Clare (who evidently knew Penelope's family once, though Penelope cannot get her mother to say anything on the matter) and the girls become fast friends. Penelope also is introduced to Aunt Clare's son, Harry Delancey, a magician with different colored eyes. All kinds of things can happen to young women in London, particularly when Johnnie Ray is scheduled to come to town and some newcomer named Elvis Presley is just starting to create a new sound. In exchange for impossible-to-acquire Johnnie Ray tickets, Harry convinces Penelope to attend the engagement party of his old girlfriend and pose as Harry's new girlfriend so he can inspire enough jealousy in the old girlfriend to win her back. Through Charlotte and Harry, Penelope is introduced to a more social world of smart parties and society types beyond the oppressive walls of Magna while still she and her family struggles with their bond to the stately home.If you enjoyed I Capture the Castle by Dodie Smith, then you'll find a kindred novel here, though perhaps this is less concerned with the pains of growing up in quite the same ways. There's a bit more poignancy to Smith's novel, but The Lost Art of Keeping Secrets is still quite lovely in its own right. Rice paints an interesting picture of post-war American-English relations, particularly emphasizing the importance of music. The emergence of Elvis Presley becomes a key moment in the life of Penelope's brother, who has his own musical aspirations. I found the mindset of the younger generation of characters (meaning Penelope, Charlotte, and so forth) to be quite interesting: these young people who grew up during the war and can hardly imagine a world without it, resulting in a somewhat skewed perspective that is attempting to right itself. Items like a new department store dress are incredibly precious and wonderful, which might seem trite, are actually poignant and lovely in a story that isn't beating you over the head with themes of poverty or the Depression. The characters are charming, though perhaps too many crucial encounters depend on chance. While I found the general plot to be a bit predictable (once all the main players are accounted for, as a few people are introduced a bit late), I was not disappointed a bit. Charlotte and Penelope are very different kinds of girls, though their friendship (despite its odd origin) is believable as they both find something fascinating about the other. It's also pleasant to see a post-war friendship depicted, even in young people, where one of them doesn't do something terrible to the other, as I feel is so often the case in books or films about this period. Someone always seems to be stealing a boyfriend or telling a lie that results in painful loss... it was refreshing to not have such out-of-place drama here, and instead, we're simply dealing with relationships between people. And Rice is certainly more concerned with those relationships, often at the cost of setting descriptions. I should have liked to hear more about London at the time, but then, she has invested all her location description energy in Magna. This looming and historic estate is lovingly presented, evoking both its majesty and decay. The idea of a poor family living in an English estate is not a new concept, nor is the fact that it is such an albatross around the neck of the Wallace family, but Rice is compelling in her portrait of the family's complicated relationship with such a home.Ultimately, The Lost Art of Keeping Secrets is a very charming novel with some minor flaws that can be easily forgiven. This would be a perfect novel for an afternoon where you might find yourself house-bound due to inclement weather (and be sure to have a cup of tea handy). I'm quite grateful to my roommate for introducing me to Eva Rice and even if there's only one copy of the novel in our apartment, at least I know it's one we're both pleased to see on the shelf.
Review by louiserogers
16/06/2015
Snowbound at home and wanting to keep up the 50 books in a year challenge I started this book. I wanted a lighthearted read after reading the Outcast by Sadie Jones which was wonderful but quite depressing.The book is about a girl called Penelope who lives with her widowed mother and brother (Inigo) in an old crumbling stately home. She is obsessed by the singer Johnnie Ray, whilst her brother is music mad on a new singer called Elvis Presley. Set in the 50's it tells the story of how she meets a girl called Charlotte (who is also Johnnie Ray mad), Charlotte's aunt Clare and her cousin Harry (a magician). Harry is madly in love with an American (Marina) who is engaged to be married to someone else and convinces Penelope to pretend to be his girlfriend in order to make Marina jealous and want him back. The story is about the friendships between them all and the plot to win Marina back.I think the title refers to many parts of the book but perhaps the main one being that Aunt Clare was once in love with Penelope's father. In the present day, there is so much more communication through mobiles, texting, social networking sites etc that you never really seem to keep any secrets because your life is on show to all at all times. Sometimes I think this is quite sad, but other times I think it's a good thing that it is so much easier to keep in touch with people and keep them updated.The time frame of the 1950's as the era in which the book is set is important. It sets the atmosphere, just post war, the music, rationing, money… all factors play a part in the story.Penelope finds Charlotte fascinating as she is very similar to her but at the same time, completely different. For instance, both girls are 6ft, Penelope is embarrassed by her height, but Charlotte is as confident as one could be with herself. However, I think Penelope shocks herself by getting into the cab with Charlotte at the beginning of the book as this is something I would imagine is completely out of character for her. Again this is something that depicts the era that it is set in as you would NEVER get into a cab with a stranger these days… the world has become a very untrustworthy place!I actually felt sad to have finished it. It's one of those stories that could have been ongoing. It was a natural end but I would love to have kept on reading and seen how Penelope and Harry's relationship developed. The book was amusing most of the time, very lighthearted, a few smiles along the way!My favourite character is Charlotte. She is a talented independent girl who is incredibly confident in her own skin. Although her story is rather sad if you think about her relationship with her mother, I obviously wouldn't want to take that on!I think if I were to change anything I would like to change Inigo's name, purely because I didn't really know how to pronounce it. I looked it up and I was reading it as In-EE-go, though this never really felt right so I'm not sure if I had it right at all!!!All stories were tied up nicely, though if a second book were written I should like to follow the relationship between Penelope and Harry, Penelope's mother and Rocky, I would like to see Charlotte fall in love with someone suitable and I would like to see Inigo pursuing his music career. There's a lot of scope for a second book!! The only question I would like answered is what did Aunt Clare actually die of?I would love to read other work by Eva Rice, particularly the one about Enid Blyton characters, though I think that might be a non fiction book.I would possibly read it again, it is lighthearted and feelgood enough to warrant a second read one day.Oh and I LOVED the cover, the pink edged pages are so pretty.