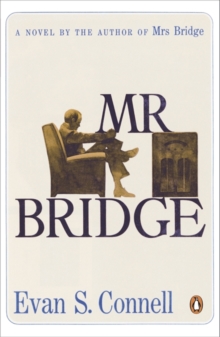 Description
Evan S. Connell's Mr Bridge is a moving and darkly funny portrayal of a man who is outwardly successful but internally stunted by existential doubts, repressed sexual yearnings and deep-seated prejudices.
Fans of Jonathan Franzen and Richard Yates will enjoy Connell's pitch-perfect portrayal of marriage and family life, and this new Penguin Classics edition also includes an introduction by Lionel Shriver, author of We Need to Talk About Kevin.Walter Bridge, husband to India and father to three, is a successful lawyer in a Kansas suburb.
The daily dramas of his life only serve to illuminate his prejudice, self-doubts and dreary existence - his Christmas gifts to the family are stock certificates, which he immediately takes back to manage on their behalf - yet he is also kind and charitable, loving his wife while never able to tell her so.
In Mr Bridge, Evan S. Connell gives us a moving, satirical and poetic portrayal of a man who cannot escape his limitations, and a couple growing old together but unable, ultimately, to connect.The companion novel, Mrs Bridge, telling the story from the other side of the marriage, is published in Penguin Modern Classics with an introduction by Joshua Ferris, author of Then We Came to the End and The Unnamed.Evan S.
Connell was born in Kansas City in 1924. He served in the US navy in the second world war and lived briefly in Paris before returning to the US, where he wrote an incredibly varied range of books and supported himself with odd jobs.
In 2009, he was nominated for the Man Booker International Prize for lifetime achievement, and in 2010, he was awarded a Los Angeles Times Book Prize.
Connell died in New Mexico on 10th January 2013, aged 88. 'Mr Bridge is a tour-de-force of contemporary American realism, a beautiful work of fiction' - Life'With a delicate and subtle irony, Mr Connell shows us, first from her, then from his point of view, the little daily dramas of this ordinary family.
It is very, very funny, often moving and sad, and written with an uncompromising realism that one rarely comes across.
To me the Bridges were a revelation: I cannot recommend them too highly' - Daily Telegraph
Information
Format: Paperback
Pages: 304 pages
Publisher: Penguin Books Ltd
Publication Date: 01/05/2012
ISBN: 9780141198668
Free Home Delivery
on all orders
Pick up orders
from local bookshops
Reviews
Showing 1 - 1 of 1 reviews.
Review by starbox
27/08/2015
"Saga of sweet joylessness and blunted sensibility...marriage and middle-age on the plains of Protestantism",, April 18, 2015, 19 April 2015 The companion volume to Mrs Bridge, written ten years earlier, which looked at a marriage principally from the point of view of the wife . In that volume we never fully understood the husband, a largely absent lawyer, although we had little hints as to his personality: hard-working, determined to provide for his family, sometimes apparently more able to cultivate a 'normal' relationship with his children than his bright, correct wife could manage.Now in this book, we live through the marriage from the point of view of Mr Bridge. Narrated, like its prequel, in the form of short vignettes; many of these are new but some will be remembered by readers of the former, where we see two entirely different viewpoints on the same incident: when daughter Ruth is associating with a homosexual man, her mother utterly fails to comprehend the situation, while her more worldly (and adoring) father tries to stop it.Mr Bridge, a self-made man, is somewhat miserly at times with his hard-earned wealth. He has an irritating need to always be right. Like his wife he is intrinsically racist in his views although neither of them would publically own to such feelings.And as we follow this couple and their three growing children, all individuals with their own personalities, we see how people grow apart while living in the same house.As brilliant as its prequel, definitely 4.5*
Also in the Penguin Modern Classics series | View all