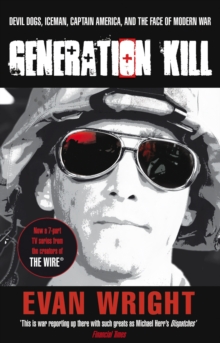 Generation Kill
Paperback
Description
"Generation Kill" is about the young men sent to fight their nation's first open-ended war since Vietnam.
Despite the flurry of media images to come of the recent wars in Afghanistan and Iraq, you have never really met any of these people, who serve as front-line troops.
For whatever reason, the media simply doesn't get them.
As we all know, news accounts of the last two wars focused almost exclusively on battlefield imagery of high-tech weapons wreaking astounding destruction, comply with analysis from retired army grandees and other experts, punctuated by the odd heart-warming patriotic sound-bite.
The troops themselves play a role in the media's presentation of recent wars rather like extras in "The Triumph of the Will".
They are everywhere yet somehow invisible. When they speak you get the sense that what they are saying has been carefully scripted.Now "Generation Kill" tells the soldiers' story in their own words.
The narrative focuses on a platoon of 23 marines, many of them veterans of Afghanistan, whose elite reconnaissance unit spearheaded the blitzkrieg on Iraq.
This is the story of young men that have been trained to become ruthless killers.
It's about surviving death. It's about taking part in a war many questioned before it even began.
Evan Wright was the only reporter with First Recon, which operated well ahead of most other forces, usually behind enemy lines.
They were among the first marines sent into the fight and one of the last units still engaged on the outskirts of Iraq, even after the city centre fell. "Generation Kill" is not just a combat chronicle but an inside look at how people fighting in war actually experience it.
It is both an action narrative like "Black Hawk Down" and a detailed portrait of a generation at war along the lines of "Band of Brothers".
It is not a book you are going to forget in a hurry.
Information
Format: Paperback
Pages: 464 pages
Publisher: Transworld Publishers Ltd
Publication Date: 01/02/2009
Category: True war & combat stories
ISBN: 9780552158930
Free Home Delivery
on all orders
Pick up orders
from local bookshops
Reviews
Showing 1 - 1 of 1 reviews.
Review by LadyHax
16/06/2015
I must admit am among the growing legions that will read this thanks to the HBO series - and probably wouldn't have touched it otherwise, particularly as a lefty anti-war (and non-American) type (although also as a junior academic who has done some research for a colleague on war journalism, so I guess it all balances out). Wright's book is compelling, exciting, entertaining and heartbreaking, presenting the complexity of experiences of war and the particular cultures (social, ethnic, racial, professional, class etc) from which this particular lot of young men emerge. Given that the embedding of journalists is often a strategic action on the behalf of the military (on the one hand, it is about transparency and freedom of information/speech but on the other, they rely on the development of cameraderie and trust between the journo and the troops to compromise journalistic objectivity), Wright attempts to present as balanced a view as he possibly can but the benefit of hindsight probably landed him back pretty much where he started. As a reader, I emerged with a little more admiration for serving troops than I might have started with but certainly a greater sadness for them and for a society and global political/economic situation that requires such conflict and the perpetuation of a certain militaristic culture. To bring it back to the HBO series where I started, I also have to commend David Simon and Ed Burns (who I already loved for The Wire) for the faithfulness of their production to Wright's book. They might be flawed but I think both this book and its series are important for bringing certain experiences to light on a more popular level, and hopefully getting a few people (myself included) to think a little more critically but perhaps also a little bit more fairly about war and the US military.