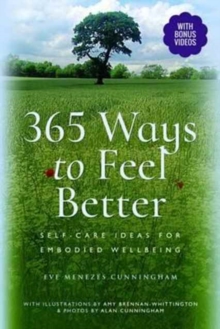 365 Ways to Feel Better
Paperback / softback
Description
This book will transform your life. Radical self-care in easy baby steps, what's not to love?
Suzy Greaves, Psychologies Editor 'Eve has done a remarkable job of pulling together 366 daily steps to help you live a happier, healthier, freer and more fulfilled life.
Let her be your inspiring guide for your year ~ Nick Williams, best-selling author of fourteen books including The Work We Were Born To Do It s hard to imagine a more useful book than the one you re holding in your hands ~ Barbara J.
Winter, author of Making a Living Without a Job 'Rich, extensive content covering a wide range of holistic principles and practices made very attainable for anyone to use.
A wealth of options for managing being human' ~ Gill Fennings-Monkman MBE, Past Chair of BACP Coaching This is a fabulous book.
So very well thought out, planned and executed and with a wonderful accessible yet respectful style.
Buy yourself this book and sit down and devour it in the way that suits you best.Then buy a copy for someone else ~ Debra Jinks, co-author of Personal Consultancy: A Model for Integrating Counselling and Coaching If living a happy, loving and healthier life is of interest to you then pick up this book. Something here for everyone ~ Steve Ahnael Nobel, author of The Prosperity Game A book that many will find of value ~ Gladeana McMahon, Chair Emeritus, Association for Coaching UK and author of books including Resilience: A Practical Guide Eve Menezes Cunningham is a journalist, accredited psychosynthesis counsellor, integrative coach-therapist, clinical supervisor, yoga therapist, NLP (neuro linguistic programming) Master Practitioner, accredited and certified Advanced EFT (emotional freedom technique) Practitioner, crystal therapist and Chair of BACP Coaching.
Information
Format: Paperback / softback
Pages: 176 pages, 60 illustrations
Publisher: Pen & Sword Books Ltd
Publication Date: 30/05/2017
Category: Self-help & personal development
ISBN: 9781473892798