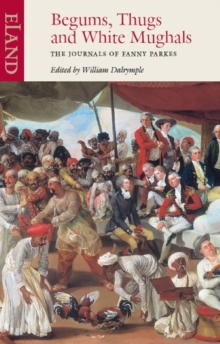 Begums, Thugs and White Mughals
Paperback
Description
Fanny Parkes, who lived in India between 1822 and 1846, was the ideal travel writer - courageous, indefatigably curious and determinedly independent.
Her delightful journal traces her journey from prim memsahib, married to a minor civil servant of the Raj, to eccentric, sitar-playing Indophile, fluent in Urdu, critical of British rule and passionate in her appreciation of Indian culture.
Fanny is fascinated by everything, from the trial of the thugs and the efficacy of opium on headaches to the adorning of a Hindu bride.
To read her is to get as close as one can to a true picture of early colonial India - the sacred and the profane, the violent and the beautiful, the straight-laced sahibs and the more eccentric White Mughals who fell in love with India and did their best, like Fanny, to build bridges across cultures.
Information
Format: Paperback
Pages: 400 pages
Publisher: Eland Publishing Ltd
Publication Date: 29/11/2002
Category: Classic travel writing
ISBN: 9780907871880
Free Home Delivery
on all orders
Pick up orders
from local bookshops
Reviews
Showing 1 - 2 of 2 reviews.
Review by wandering_star
16/06/2015
Fanny Parkes lived in India from 1822-1846, and wrote the journals so her mother would be able to imagine the way she lived. I think the best way to introduce her is to quote from the introduction:"We are rather oppressed just now by a lady, Mrs Parkes, who insists on belonging to our camp,' wrote Fanny Eden in January 1838. "She has a husband who always goes mad in the cold season, so she says it is her duty to herself to leave him and travel about. She has been a beauty and has remains of it, and is abundantly fat and lively. At Benares, where we fell in with her, she informed us she was an Independent Woman."Dalrymple explains that Fanny Eden was effectively the First Lady of British India, and that her (and her sister Emily Eden's) books on India are still often read. Yet Fanny Parkes' book (originally titled Wanderings of a Pilgrim in search of the Picturesque) never went into a second edition - even though she is "an enthusiast and an eccentric" where the Edens are "witty and intelligent but waspish, haughty and conceited". Fanny is curious about everything that happens around her, and fearless in finding things out (when she is travelling upcountry and some of her party spot a tiger, she gets out of her palanquin to have a look at it). Sometimes she seems quite gleeful at her own adventurousness: on her first trip into the hill country, she writes proudly about getting used to riding on the precipitous paths ("At first I felt a cold shudder pass over me as I rode by such places; in the course of a week I was perfectly accustomed to the sort of thing, and quite fearless"). One of the pleasures of the book is following her viewpoint from her first arrival in India. Imagine experiencing a tropical thunderstorm for the first time, seeing palm trees, or riding an elephant ("when he rose up, it was like a house making unto itself legs"), with no images from tv or films to tell you what to expect. But more than that, Fanny's understanding and love of India also grows. Her first visit to a Hindu temple is dismissed with a comment about native superstition and gullibility. But by 1830, her description of Diwali festivities moves into an explanation of the different ways in which the goddess Kali is worshipped. She learns to play the sitar and speak Urdu (the court language), and comes to admire and respect much of the culture of the Indian ruling classes. At the same time, she maintains her breathlessly enthusiastic style, and includes plenty of domestic detail - every winter, ice is stored up, and the stores are opened around April or May - and every year in late summer Fanny wonders how much longer the stocks will hold out. She rambles all over Northeastern India, from Delhi and the hills to Calcutta - including a two-month boat trip upriver to visit the Taj, which she is deeply moved by. The primary interest of this book is probably Fanny herself - her personality, and the window onto an extraordinary life. However, it's also an insight into some aspects of early nineteenth century India - there is a lot of detail about how different religious festivals are celebrated, for example, and also about life in the women's quarters. Fanny becomes friends with a number of aristocratic women, and some of the most interesting parts of the book are where she reports them quizzing her on English life and customs, especially the way that women are treated. It would be wonderful to have a description of her from the Indian women's point of view!
Review by snash
16/06/2015
The book is a fascinating glimpse into an exotic world, one that assuredly no longer exists. The author makes a yeoman's effort to describe what she sees and in so doing provides detail that is sometimes overwhelming. Of course, that sense of being overwhelmed is exactly what the scene invokes and so gives the reader a sense of being there.Along the way there are characters that she meets and describes but the most alluring character is Fanny Parkes herself. Her enthusiasm and open-mindedness is there from the beginning of her stay in India. It is interesting to see where that attitude leads her over the course of the 17 years in India. Towards the end of the book it is clear that her exploration of Indian culture had given her a much clearer understanding of English culture as well as the Indian. She evolved into a more independent woman than either culture could embrace. Even that she bore with good humor, thanking life for giving her that opportunity, but not begrudging its ending.